Ruth Langsford shocked fans as she revealed her hidden talent on Do The Right Thing.
The Loose Women presenter donned a silver wig and sang Status Quo's Rockin' All Over The World – joined by Ann Widdecombe in a bright orange wig.

She jumped and rocked out all over the stage, wowing the audience – which included her husband Eamonn Holmes.
He was seen enjoying his wife's performance, as he played air guitar in the crowd.
The song came during a segment which revealed there was a shortage of female rockers in Middlesbrough.

And viewers went wild for the performance, taking to Twitter to praise Ruth.
One exclaimed: "Ruthie Ruthie Ruthie, you go girl!"
Another added that she should stop hiding her talents!
They wrote: "Wow shouldn't be hiding a voice like that. Brilliant show."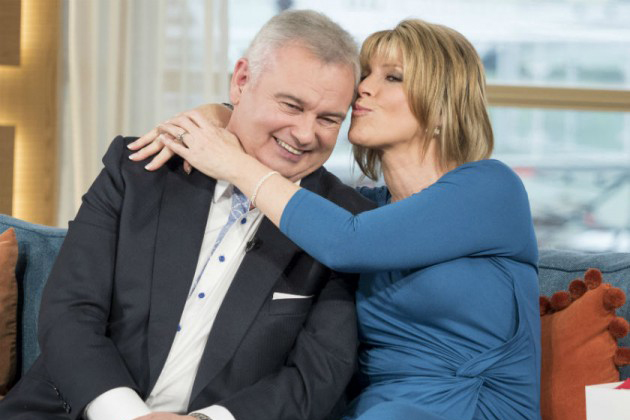 And a third fan praised: "There's no end to your talent! A @loosewomen a tv presenter on @thismorning @QVC a wife to Mr @EamonnHolmes and now a rock chick on #DoTheRightThing!!"
During Do The Right Thing, Ruth also stripped completely naked to try out a new workout class in a nude gym.
Ruth walked around 'the hottest new exercising trend' while chatting to other nude gym-goers.

While interviewing a few people who choose to work out in the buff regularly, Ruth was told that the fitness fanatics actually prefer baring all because there's no way to hide their bodies.
One woman said the only problem was the temperature, as the heavy air conditioning made her a bit cold.
But that didn't stop Ruth from exclaiming: "If you can't beat them, join them", before stripping off completely nude herself.
There were just some strategically placed exercise weights protecting her modesty as the telly presenter revealed she was 'really getting into the swing of things'.

But it looks like 58-year-old Eamonn isn't so open to the idea as when the clip cut back to the studio, he didn't look best pleased.
Ruth then told her hubby: "You know what? I'm feeling quite free and easy…I like this," before asking: "Have you noticed how toned my arms are now?"
"It's not your arms anybody's looking at!" Eamonn pointed out, as he joked: "We'll have words when we get home!"