Meghan Markle's father Thomas has spoken out in his first ever TV interview, on his now world-famous daughter – and the chaos that surrounded his attendance at her wedding to Prince Harry.

Speaking to ITV's Good Morning Britain hosts Susanna Reid and Piers Morgan from his home in Mexico, the Duchess' father spoke extensively about his daughter, and how he got to know Prince Harry over the phone.
He also discussed the fall-out from his inability to attend the May 19th nupitals, confessing that Meghan 'cried' when he broke the sad news to her.
Thomas admitted, "They [Harry and Meghan] were disappointed but they both said, Meghan cried I sure, she did cry. And they both said take care of yourself, we are worried about you they said the important thing was I get better."

The royal's father underwent an major heart operation just days before the Windsor wedding, explaining his absence at the event. Discussing how his health is now, Thomas admitted, "I'm recovering from a heart operation but I'm doing much better thank you."
During the chat, Thomas, also discussed what it was like getting to know his new son-in-law – revealing that they discussed politics on one of their many conversations.
He shared, "We have yet to see each other face to face. We've had interesting conversations on the phone. He's a smart guy…We talked a few times about Donald Trump, Brexit, things like that. He's an interesting guy.
Thomas Markle also shared the warning he gave the Prince when he asked to marry Meghan. He said, "Actually, Meghan told me first and then a few times after that, Harry got on the phone with Meghan, they called me together, and Harry asked for her hand over the phone.

"And I said, 'You're a gentleman, promise me you'll never raise your hand against my daughter and of course I give you my permission.'"
Meghan's dad also discussed the moment he realised the magnitude of his daughter marrying into the royal family – but praised the former actress, confessed that she is a "prize" for Harry as much as he is for her.
"At the time, I didn't realise that, I'm not even sure she realised that, I'm sure it's very complicated, the Royals are very complicated, it's a whole different lifestyle. But I think she can always rise to that occasion. My daughter is capable of anything and she'll certainly be a complement to the Royal family."
Thomas continued, "Of course it's 'wow', it comes out as a 'wow', but this is my daughter and she's certainly a prize for him as well. He's great, an interesting guy, a prince, but my daughter's been a princess since the day she was born."

The 71-year-old went on to discuss the staged paparazzi photos he set up a week before the wedding, admitted it was a "serious mistake", and that he has apologised to his daughter and Prince Harry for doing so.
"I spoke to them both and I apologised. I realised it was a serious mistake.. But hard to take it back… They were very forgiving, it wasn't that difficult. Both Harry and Meghan were very forgiving about it."
Meghan's father – who is reportedly still yet to meet her husband – also discussed how he felt about Prince Charles walking his daughter down the aisle.
"I was honoured. I can't think of a better replacement than someone like Prince Charles. He looked very handsome and my daughter looked beautiful with him.

He also admitted that he was 'jealous' of the Prince for doing so, but that it may have been a 'treat' for him, as he has only had sons.
"I was jealous I wish I'd been there I wish it had been me but thank god he was there and thank him for that. It might have been a treat for him as he never had a daughter."
Thomas went on to share that the plan had always been to walk Meghan down the aisle – even two weeks before the ceremony.
He also went on to discuss how he felt watching the royal wedding from an apartment in Mexico, confessing that it was an emotional moment for him, given that he couldn't be there himself.
He said, "She was beautiful, it was incredible watching her. I cried a little bit about it. She was so beautiful walking down that aisle.. and so was very proud I couldn't see a better moment in my life .. the whole world was watching my daughter I was very happy about that."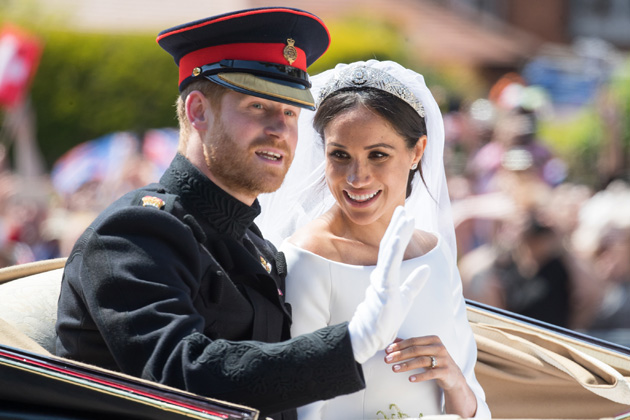 "The unfortunate thing for me now is I'm a footnote in one of the greatest moments in history rather than the Dad walking her down the aisle. That upsets me somewhat. I wanted to walk my daughter down the aisle. I wanted that moment. But I'm thankful for everything the way it went."
Thomas Markle also shared his thoughts on Harry and Meghan's plans for children – revealing that she has always wanted a family.
He confessed, "She has wanted children for a long time. And when she met Harry she spoke about how much she loved him and so there has to be a child making somewhere soon."
"I don't think there is a stalk in the air yet but I think it will happen sooner or later."