As a regular on our TV screens it's no surprise Ruth Langsford wants to look her best but, like a lot of us, the 58-year-old is not immune to falling off the wagon sometimes.

Last year Ruth admitted that she found losing weight during the menopause a "struggle" and it sounds like things aren't getting any easier.
Ruth's fellow This Morning host Rochelle Humes recently posted a quote on social media that read, "Sunday carbs don't count. Those are the Lord's carbs & he wants you to be happy."
Ruth was quick to comment, "Oh thank God… had a complete sugar binge today! Back on track tomorrow." We've all been there…

Delicious binges
After spending most of the last year on a big health kick, it's refreshing to hear that Ruth has the same struggles as many of us.
In 
fact, Ruth's often revealed that, despite her willpower, she just can't say no to those pesky junk food cravings. She said, "Life is for living, so I do eat chocolate cake. My son made me 
a lovely Victoria sponge, full of cream and covered in hundreds and thousands – I had two slices."
And when it comes to the weekend – as she told Rochelle – it looks like Ruth finds it even harder to be good. We're often treated to a glimpse of Ruth's meals on social media, such as calorific Full English breakfasts.

Unsupportive Eamonn
It seems healthy eating at home might not be the easiest thing for Ruth, as her husband Eamonn Holmes favours hearty meals over salads.
"He likes traditional food, like casseroles and Irish stew," explained Ruth. "I love making things like one pot dishes, big roast dinners and lasagne."
And, because of this, cheeky Eamonn, 59, has branded Ruth 
a feeder! He made the comment during a discussion with Davina McCall on This Morning, and Ruth hit back, "I feed him so he doesn't run off and leave me for someone else."
Poor Ruth also endures Eamonn's jokes about her weight. After mentioning that she was using a weight-loss app which had limited her 
to 1,200 calories a day, Eamonn responded, "That's because you're very fat."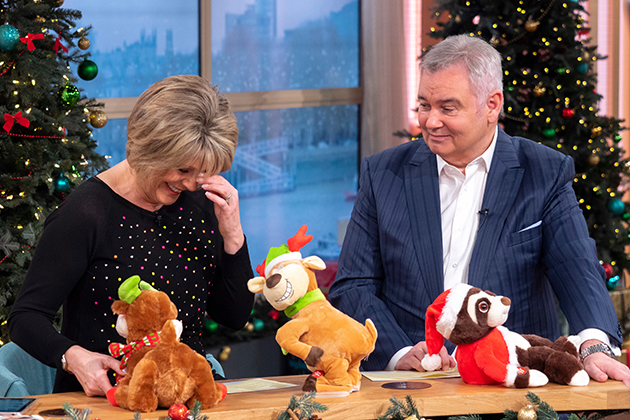 Workout struggles
Something Ruth knows all too well is that as we get older, it becomes harder to maintain a healthy size.
She said previously, "I always like to look good but, as I get older, I have to work harder at it. I have to watch what I eat and drink. Wine is dreadful for the waistline."
Ruth's very open about her weight battle and admits going through menopause was 
a tricky time which saw her change shape. "[The menopause] affects my ability to lose weight," she says. "I try not to let it ruin my life."
Personal trainer and nutritional expert Laurel Alper agrees that menopause makes things harder, explaining, "It's hard to maintain your weight, let alone lose weight, because you don't burn as many calories and your metabolism slows down."