This Morning presenter Ruth Langsford says the menopause is responsible for ruining her figure

Her husband Eamonn Holmes often jokes about her weight on This Morning, but it looks like he might 
need to rein in the banter as Ruth Langsford has admitted that she feels "fed up" and "uncomfortable" after putting on the pounds.
With her warm smile and easy-going charm, it's hard to believe that the presenter is lacking in body confidence.
But thanks to the menopause, Ruth, 59, tells Woman that after fitting comfortably into a size 12 her whole life, she's starting 
to feel down as she now struggles to fit into a size 14.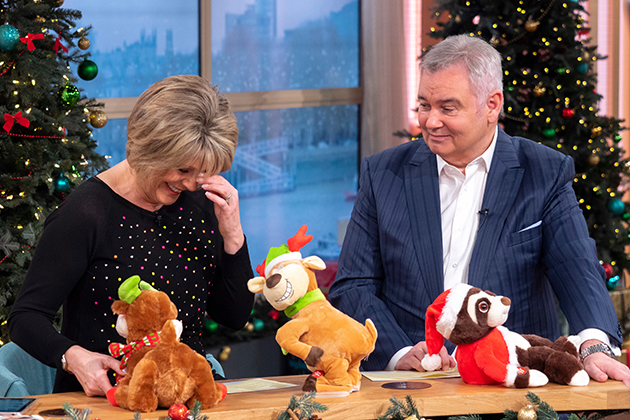 Body battles
"When I put on any weight, I can't shift it and that's making me a bit fed up," Ruth tells us. "I was basically 
a size 12 all my adult life and then when I hit 50, the weight crept up and 12s were feeling a bit snug.
"Eventually I went, 'Ruth, just admit it, you're now a size 14.' 
And I was fine with that. And now everything that is a 14 is tight. I eat healthily and go to the gym, but it's just not shifting."
The only thing that helped her was Strictly Come Dancing in 2017. "When I did Strictly, everything suddenly started to fit and I had my waist again," she admits.
"But you can't recreate that kind of exercise in real life. I don't obsess about it, but I feel uncomfortable, like I'm squashed into my clothes."

Going into 'Red rages'
Another downside of being in her 50s, Ruth says, is that the menopause is playing havoc with her moods. "With the menopause, I definitely feel the angry old woman," she tells Woman.
"I fight over very simple things. And not always people. It can be inanimate objects in the house, or I bang myself or drop something and it's like a red rage – the language that comes out!
"I'm literally effing and jeffing 
because I've dropped the butter knife. Afterwards, I think, 'God, was that me?' It's like I'm possessed – the devil takes over my body!"
Luckily, all it takes for Ruth's blood pressure to drop is some time at the Surrey home she and Eamonn share with their son Jack, 16. "I'm a real home bird, so I just like cooking and pottering," she says.

Rowing with Eamonn
Someone who feels the brunt of Ruth's moods swings is Eamonn. "I love working with Eamonn – he's the most fantastic broadcaster, he's one of the smartest people I know and he's funny beyond belief," says Ruth.
"He knows if he's in 
the doghouse he can get out of it by making me laugh.
"Of course there are challenging times, when we might have had 
a row in the morning, but most of our rows are over something quite pathetic. Then having to go and work together we have to get 
over it, because we have to be professional. And then we laugh and the row is forgotten."

Her busy lifestyle
With her hectic schedule, it's no wonder Ruth struggles to find time to exercise.
She has been a Loose Women regular since 1999 and has hosted This Morning every Friday with Eamonn since 2006 – and the couple are taking part in This Morning Live next month. Ruth also designs her own clothing range for the QVC shopping channel.
"I don't really see myself retiring because 
I like what I do," she tells Woman. "But 
I would like to travel more. Eamonn 
and I love spending time together."