Ever since she burst onto our screens presenting What Not To Wear with Trinny Woodall in 2001, Susannah Constantine has always appeared confident. But, behind closed doors, it's a different story.
The 57-year-old has confessed that she's been battling with anxiety for over 20 years, suffering her first panic attack aged 35 after her father, Joseph, died.

'The worst one I had happened at 
a Scissor Sisters concert, of all places,' 
she explains. 'All I remember was hiding beneath [lead singer] Jake Shears' dressing table backstage, in a desperate attempt to find somewhere that felt safe.
'My son, Joe, then aged only eight, was the one who had to raise the alarm about my disappearance as I had abandoned him in a crowd of 15,000 people.'
Singer Jake persuaded Susannah to seek professional help and she underwent 
a course of anti-anxiety medication and therapy, which managed to get her anxiety under control for a decade.
But as soon as Susannah started 
to go through the menopause, the symptoms all 
came back 'with a real vengeance'.

Susannah says going through the menopause made her 'lose her sense of excitement' and gave her nasty side-effects, including 'weight gain, fine lines and sagging 
skin, lethargy, blue moods, heat intolerance and feelings of insecurity'.
The former I'm A Celebrity star even claims that many of her relationships 
– including her 24-year marriage to Sten Bertelsen – came 'near to breaking 
point' because of them.
'Every morning I'd wake consumed by fear,' Susannah admits. 'Anxiety turns me from a confident woman into a hot mess racked with insecurity.'
She continues, 'Frustration with 
a partner, resentment towards an in-law, confronting a rude teenager, news of 
a back-stabbing work colleague, aggressive calls 
or emails – when anxiety is sky-rocketing, these situations can flip the brain into thinking it's all personal. For me, one of the greatest anxiety-riddled hurdles to scale has been the constant, nagging worry of becoming a husk of my former self and answering the selfish-sounding question: "What's left?"

'This combination of factors makes everything feel impossible. It can seem as if the floor is scattered with booby traps – whether it's a challenging teenager 
or long-term career worries.'
But while the TV star confesses, 'I joke with my children to 
put a pillow over my head when I become 
too much of a burden to them,' she is quick to insist that she has control 
over her anxiety issues these days.
In a bid to combat her symptoms, Susannah uses meditation, writes gratitude lists and focuses on the positive parts of her life, rather than the negative.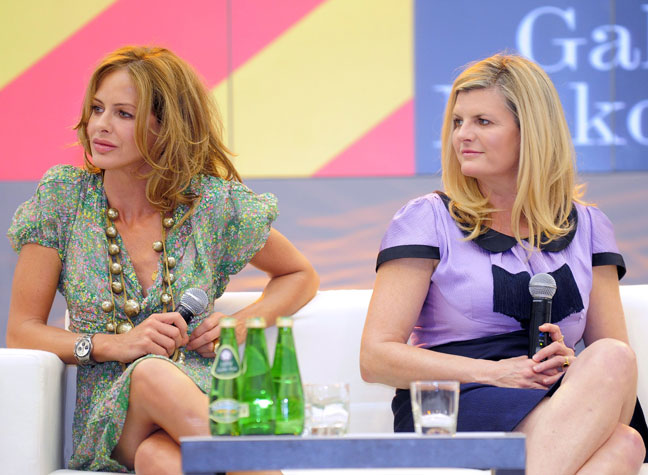 'These small steps all put together don't really amount to a cure, but they have truly transformed my life,' she explains.
'I've learnt to accept the stomach-churning hit of fear when I wake, and 
realise that it will pass by mid-morning.'