Their on-screen bickering is part of the reason so many of us tune in to see Susanna Reid and Piers Morgan on 
Good Morning Britain.
But off-screen, 
it seems Piers was desperate to set 
up his 'TV wife' with a new man and insisted he was responsible for Susanna's flourishing romance with Crystal Palace Chairman Steve Parish. However, Woman can reveal that doesn't exactly appear to be the case…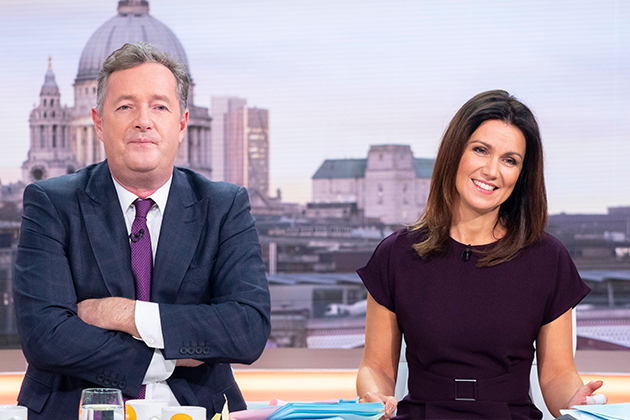 Social media banter
Despite Piers claiming Susanna, 48, 
and Steve, 53, first got talking during 
a group get-together he'd arranged, the couple were chatting on Twitter back 
in early 2014! At the time, Susanna had just competed in BBC1's Strictly Come Dancing and was preparing for the UK tour but she took time out of her schedule, on 31 January 2014, to send Steve a message, 'Wow you've been busy while I've been dancing #cpfc,' to which he replied, 'Yes busy day, hope the tour is going well:)' But something was clearly keeping them up, as she replied to his 3am tweet, 'Neither of us should be awake right now!' Three months after the tour, Susanna gushed, 'I know the score – good luck to my amazing #cpfc – so much heat & soul & passion & team spirit.' Steve was quick to respond, 'Thanks hon, we weren't ourselves today.' And just 
days later, at almost 9pm, he replied to another of her tweets asking, 'Shouldn't you be asleep?' Cheeky.
Sorry, Piers!
After snaps of Susanna and Steve surfaced 
in November, Piers, 53, seemed delighted to tell their story on GMB. He said, 'The first embers of this relationship were ignited in New York 
a day after Trump became President. 
We all got together.
'It was your idea,' Piers told Susanna. 
'You said you wanted me to bring a couple of friends from Crystal Palace and you clearly thought, "What a great guy." It wouldn't have happened without the direct involvement of Donald Trump. We were all there because of him.'
Piers expanded on the story 
of Susanna and Steve's 2016 'meeting' in his newspaper column, writing, 'Susanna and 
I threw an impromptu drinks 
party at the London NYC 
hotel to celebrate anchoring 
Good Morning Britain's election night coverage.'
Revealing the night was 
a 'hilariously drunken one', Piers added, '1) Steve is a very smart, funny and entertaining guy. 
2) He was an even bigger fan 
of Susanna's than she is of 
Crystal Palace. "You two are perfectly suited," I teased her afterwards. "Don't be ridiculous," she retorted.'
Sorry to bruise your ego, Piers, but it seems Susanna and Steve were already acquainted long before you got involved.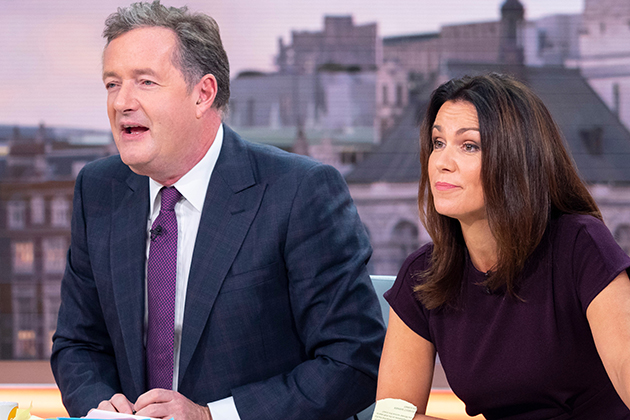 Romantic break for two?
After splitting from Dominic Cotton in 2014 following 
a 16-year relationship, Susanna put her love life on the back burner to focus on being a mum to her three sons. GMB viewers will know she regularly takes school holidays off from work – but did she spend part of last February's half-term on a romantic break with Steve? Susanna has been coy about their relationship, revealing, 'There was friendship first. We were able to have a bit of time together before [the news got out] and I know it's out there now.' A Facebook account, believed to be owned by Steve, shows him gushing about an 'incredible special place, fantastic food wonderful room'. The review, left on 20 February, was for Chez Merie in 
the French Alps. Perhaps coincidentally, Susanna was off social media until the day after Valentine's – were they together?
Lips sealed
But it looks like it's not just Piers who will be the last to know the next milestones in 
their relationship, as Susanna stressed she's keeping schtum from now on. 'While it's no longer a secret, it's definitely private, so 
I don't want to talk too much about it!' Piers 
will just have to pry a little bit harder, if he's not too hurt and upset by these latest revelations!