Susannah Constantine and Kate Silverton reveal justhow they really feel ahead of 
their Strictly Come Dancing adventure

When it comes to the 
art of looking elegant, Susannah, 56, and Kate, 
48, have got it nailed.
But along with the gorgeous, glittery and glamorous 
Strictly outfits comes the daunting prospect of performing in front of millions of viewers in just a matter 
of weeks. And it's safe to say these two women are starting to feel the pressure.
Having spent most of her career alongside Trinny Woodall as a fashion guru, mum-of-three Susannah would probably be more comfortable in the dressing room styling the other stars.
And as for mum-of-two Kate – who shot to fame as a newsreader – she's probably better suited to taking over Tess Daly or Claudia Winkleman's 
job – presenting the show.
But here they are – ready and raring 
to push themselves out of their comfort zones for our viewing pleasure.
Here, they reveal what they fear the most about their Strictly journeys…

Susannah: 'I'm worried I'll go first!'
I'm worried I'll go out first 
because there's a good chance 
I will. There's only one way I can 
go and that's up. My expectation 
is low, but my hopes are high.
My kids don't get impressed very easily, but they are really excited. 
My son couldn't care less, but my daughters are over the moon, and they're so happy Joe Sugg, Stacey Dooley and Vick Hope are in it. It's 
the first time – because we've got those people doing it – they're actually going to be invested in the show. 
I think the BBC has been really clever in getting such an eclectic mix.
READ MORE: SUSANNAH REVEALS HOW SHE LOST A STONE AND A HALF IN 12 WEEKS
I speak to Trinny every day, if not three times a day. The first night I was crying, saying, 'I don't know why I'm doing this, I've made such a mistake, and I'm so bad.' She gave me a kick up the arse and told me to get on with 
it because I'm lucky to be on Strictly.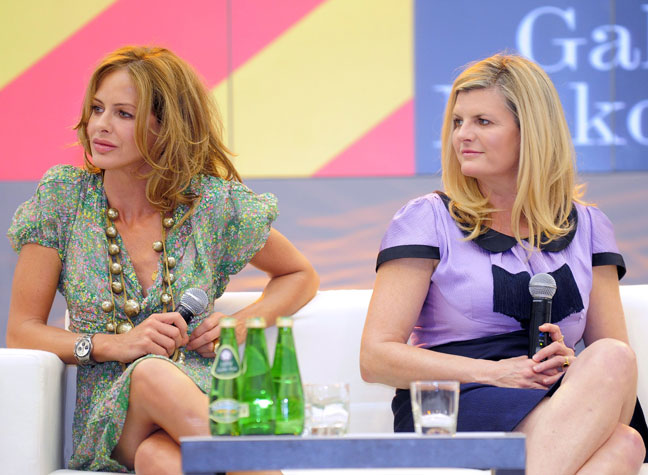 The costumes are so beautifully made that I'm not worried about 
my big boobs! They're not an issue. 
I've got too much else to think about. 
If my body changes, that will be a 
happy accident, but let me get the 
fancy footwork done first…
The people are amazing! The best thing is the people. From the word 
go, we got on instantly. And now it's building and we're all texting each other – it's fantastic. They're so lovely.
Kate: 'The outfits are very liberating!'
I'm finding Strictly very liberating because I can step into another space. The wardrobe ladies have 
this amazing way of – when you turn up as a 48-year-old mum and ask for the biggest frock possible – giving you a real sense of encouragement. It's not to say that it isn't slightly petrifying, stepping out in probably the shortest skirt I've worn since playing netball in high school. I don't normally get my legs out, so there's an element of that. But it's also very liberating. In the newsroom, I have 
to wear a certain outfit and here, 
I'm in the hands of the Strictly gods, so I want to make the most of it.
All my friends who have done the show have all been lovely in their support. People have all said it's 
the best thing you'll do and coming from someone like Denise van Outen – who knows the entertainment business – I think, 'Wow, that is 
saying something.'
I'd like to stay in for at least a 
few weeks so I can learn a dance 
or two. I'm coming in from a very 
low threshold…