From the moment Prince Harry and Meghan Markle announced their engagement, the public have been waiting with bated breath for one thing - the announcement that the couple are expecting a child.

While we reckon the pair probably want some time to simply be newlyweds before that, it's an inevitable question, and one that was similarly asked of Kate Middleton and Prince William before they welcomed Prince George.
But apart from the couple confessing that they do want a family, there have as yet been no hints about when they might do so – until now.
On Tuesday's episode of Loose Women, former CBB star and psychic Sally Morgan shared her thoughts on the Duchess expecting a baby.
And she predicted that the announcement will come far sooner than we thought.
She told the panellists, "I think that Meghan – before the end of the year, it will be announced that she's expecting a baby." Eek!

Sally also hinted at further change for the monarchy, stating mysteriously, "Next year there will be a restructure within the Royal Family."
However, it seems some of the Loose ladies weren't entirely convinced by the prediction, with Linda Robson noting that it wasn't too much of a stretch.
She said, "This isn't very controversial is it?
"I mean the country's all waiting for Meghan to get pregnant, it's just a matter of time."
Janet Street-Porter also offered up her thoughts on what the 'restructure' could be, saying, "So what you're implying is that Prince Charles is going to step down in favour of William."
However, Sally was keen to make it clear that that was Janet's prediction and not hers!
And it's not the first royal prediction she's made. She was correct when, weeks before the royal wedding, she stated that Prince Charles would walk Meghan down the aisle instead of her mother Doria.
The Duke and Duchess of Sussex have made no secret of their wish to start a family in the future. During their engagement interview, when asked about children, Harry joked, "Not currently, no.

"No of course. One step at a time, and I think we'll hope to start a family in the near future."
Harry himself spoke about his desire to have children back in 2015, a year before meeting Meghan, but confessed that he wished to have someone next to him to share the pressure.
He said, "Of course, I would love to have kids right now, but there's a process that one has to go through and tours like this are great fun."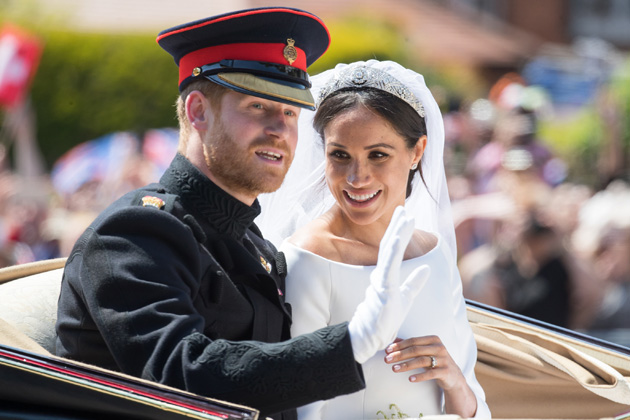 "Hopefully I'm doing all right by myself. It would be great to have someone else next to me to share the pressure. But, you know, time will come and whatever happens, happens."
Aww – we're so happy Harry's now found the woman of his dreams!