It's not unusual for most celebrities to jet off to a glamorous location once the summer holidays begin, but it seems Ruth Langsford and Eamonn Holmes are more than happy staying put in the UK.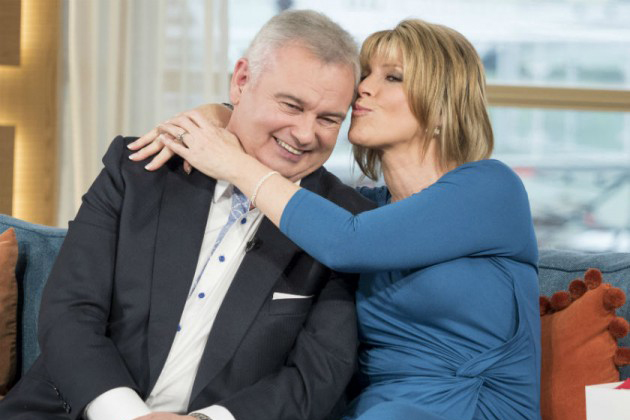 Eamonn and Ruth, both 58, have revealed they won't be catching a flight anywhere this August, but will be making the most of the scorching British weather instead.
Tweeting about the heatwave earlier this week, Eamonn asked his followers: "How are you coping? #Heatwaveuk I'm lovin it ….. I think. Just remember how long, cold, dark, grey, wet, dank and miserable WINTER is."
The post was met with many responses from his 970,000 followers, including one fan who wrote: "It's great, love the sun, love the warm evenings. It's like being on holiday but much better – no godawful travelling, own bed, proper telly I can understand."

This then prompted Eamonn to let everyone know how he and his wife of eight years will be enjoying the sun. "These are some of the reasons @RuthieeL and I stayed at home this year for our holiday," he confessed.
Another Twitter user decided to refer to Love Island and Laura Anderson's comment about fancying Eamonn, writing: "Laura said you're alright, you're hot enough, never mind the weather. #Loveisland2018."
Laura admitted on the ITV2 reality show last week that she fancies Eamonn, saying: "I really fancy Eamonn Homles," adding "I just love him and Ruth, and I think they're so cute together."
Ruth agreed with Laura and tweeted: "The girl has taste! Thank you Laura but @eamonnholmes won't be cracking on anytime soon!!"
Cheeky chappy Eamonn also tweeted a response and wrote: "I have to thank that lovely Laura girl from #loveisland for the nice things she said about me. Let's just not share them with @RuthieeL. I don't want to get my mugged offs ad cracking on's mixed up…. But plenty to discuss on tomorrow's @thismorning @loveisland.
The husband and wife presenting duo have taken over from This Morning regulars Holly Willoughby and Phillip Schofield while they're on their summer holidays.
Words by Leanne Carr