It's hard to believe it's been more than 20 years since Rachel Stevens shot to fame with the rest of her S Club 7 bandmates.

So fans were left gobsmacked on Tuesday when the 90s popstar took to Instagram to reveal she's just turned 40!
Sharing a photo from her birthday party, the Sweet Dreams My LA Ex singer can be seen wearing a navy polka dot top and jeans while sporting neutral make-up and loose waves.
"Glass of wine at the ready," the star wrote below the snap which sees her clutching a large drink.
Before adding: "Waiting to welcome all my fabulous friends and fam. We're ready to par-tayyyyy! Can't believe I'm 40!!"
And if it weren't for the giant '40' balloons behind her, you'd have been forgiven for thinking Rachel was turning 25!
The photo has absolutely stunned the star's 107k followers, as one wrote: "No way happy Birthday Rachel #wow #agedefying".
"And you don't look a day over 21. Happy Birthday Rachel", said another. 
A third added: "You look INSANE for 40! Xx", while a fourth agreed: "Still looking 20's! Aging like fine wine".
It looks like her youthful appearance runs in the family, as she shared another picture of the festivities next to her mum.
"Mama love", the telly star simply wrote next to the snap which sees the pair snuggle up for the photo.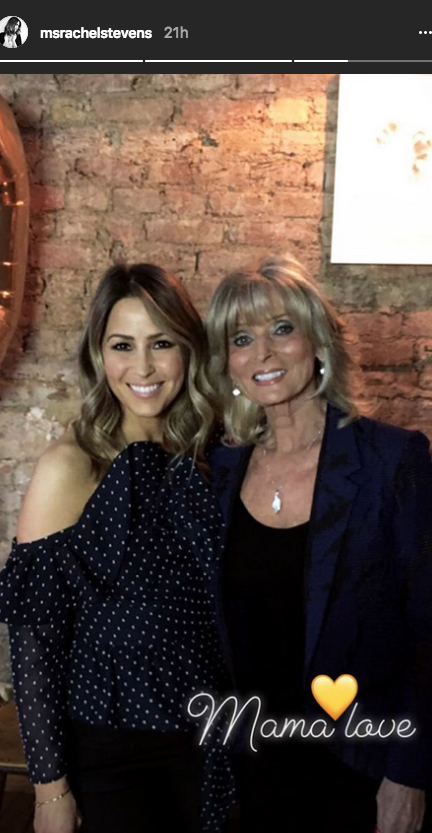 Strictly Come Dancing star Rachel – who has two daughters, Amelie and Minnie, with husband Alex Bourne – recently revealed that she now feels sexier than ever.
"It's lovely that people still view me as a sex symbol," she told The Sun last year. "But I definitely feel like I've got more confident and sexier as I've got older."
Rachel went on: "Your body is always changing, which is great, but you know more what you want out of life, too, and that inner confidence gives you more sexiness."

The 40-year-old then confessed although she hasn't thought about cosmetic surgery, she would never rule it out completely.
"It's such a personal choice," she said.
"I haven't thought about surgery now, but who knows further down the line? I don't rule it out for when I'm older."