As she enjoys life as a royal, 
the Duchess of Sussex's past still seems to be haunting her
There's no denying that since her engagement 
to Prince Harry was announced in November 2017, 
the Duchess of Sussex's family have been causing 
quite the royal scandal.
With her outspoken half-sister Samantha Markle constantly slamming her on both TV and social media, and her father Thomas speaking out in the press, it's perhaps understandable why Meghan, 38, would want to distance herself from certain members of her family.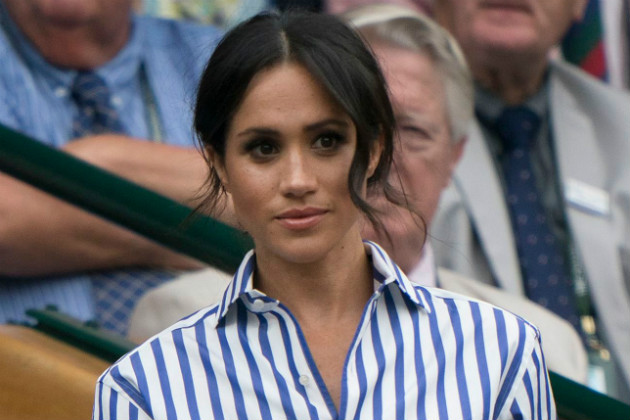 But, after welcoming her first child with Prince Harry, 34, it would seem that the Duchess is plagued by guilt over her strained relationship with her father.
GUILTY CONSCIENCE?
'Meghan feels terrible and has a huge sense of regret about the situation involving her dad,' says a royal insider.
'After all, this is her own flesh and blood and the person who raised her, not a distant relative who she barely knows or cares for any more.'
Meghan is thought to have cut contact with her dad after he spoke publicly about both her and Harry. In one damning interview Thomas said, 'I've just about reached my limit with Meghan and the royal family. She'd be nothing without me. I made her the Duchess she is today.'

And, despite Meghan's happy baby news, she has continued to distance herself as far away from her father as possible, with Thomas, 74, revealing that he found out that his daughter was expecting way back in October 2018 through the media. Ironic, some might say…
'I heard the baby announcement 
on the car radio. I thought, "My baby is having a baby,"' he confessed on hearing the news.
But, as the royal continues to shun her past, it wouldn't be surprising if she couldn't shift her feelings of regret over the way things have panned out with her father.
PUBLIC CONFESSIONS
Thomas caused controversy among the royal family when he set up staged paparazzi photos of himself ahead of his daughter's wedding.
The images included shots of him being measured for a suit and even reading books about British landmarks. The humiliation didn't stop there, with him continually talking to the media, too.
But, we're told that Meghan can't help but feel partly to blame for her father's outbursts.
'Meghan worries that her dad didn't have the guidance or support from her and that perhaps she could have done more to protect him at the beginning of the media storm,' adds our insider.
'It was all new to her too and she didn't really know what to do. The public outbursts were embarrassing, but she didn't feel that it was appropriate to be pandering to him given what he was saying in the press.'
BREAKING THE RULES
Regardless of what Meghan wants or her feelings of regret, there may well be too much water under the bridge already. Could the royal family forgive those interviews and invite Thomas into their family? It's 
a stretch by anyone's standards.
'In an ideal world, she'd like to contact him and try and talk things through in an adult manner,' explains our royal insider.

But, with her relatives' shocking comments constantly grabbing headlines, it seems as though the unwanted attention they're bringing to the royals might make it difficult for her to make amends with her dad.
'Meghan's tormented by guilt over how everything turned out, and what makes it harder is the fact she's left in such a difficult position,' continues our well-placed source.
'Does she make contact which could cause more trouble or distance herself further? 'She'll know that if she does contact them, it'd be hugely controversial and, of course, now she's a duchess, royal protocol should come first.'
NEW LIFE
Despite Meghan's regrets, she still has a new royal life to focus on. With upcoming public engagements, royal tours and a newborn baby boy, it's unsurprising that we're told her family feuds are casting a dark cloud over her happiness.
'Meghan's had many sleepless nights worrying about her dad, especially after his heart attack. What if this was his last Christmas? That would worry anyone and that must have gone through her mind,' says our source.
Let's hope they can sort things out soon…