It was an early start for Prince Harry and Meghan Markle, as they headed out of their Kensington Palace home for the 5am Anzac Day Dawn Service at Hyde Park Corner.
The couple arrived at Wellington Arch for the commemoration service, held on Australia and New Zealand's national day of remembrance, to honour those who have died in wars and conflicts. Anzaz Day also marks the day that the Army Corps landed in Gallipoli, during World War One.

And the pair appeared visibly emotional as they took part in the ceremony – and perhaps even a little tearful.

The service was likely to be a poignant one for Prince Harry, who himself served in the army for over 10 years.
Meghan Markle dressed in a stylish but suitably sombre outfit for the occassion. The royal-to-be wore a fitting, wide-brimmed hat, knee-length camel coat and a black Gucci clutch paired with Sarah Flint heels.

Watching her fiancee lay a wreath of remembrance, Meghan looked visibly moved, as she looked on from her seat on the stage. The engaged couple also sang hymns during the emotional ceremony, including the classic, Abide By Me.
---
Read more…
---
Following the Dawn Service, the couple also witnessed a traditional hongi, a ceremonial Maori dance, from Te Ataraiti Waretini, from Ngati Ranana.
Ms Waretini praised Prince Harry's fiancee after meeting her at the service. She said, "She [Meghan] was amazing. I'm not sure if it's her first time at a Maori ceremony but she did very very well.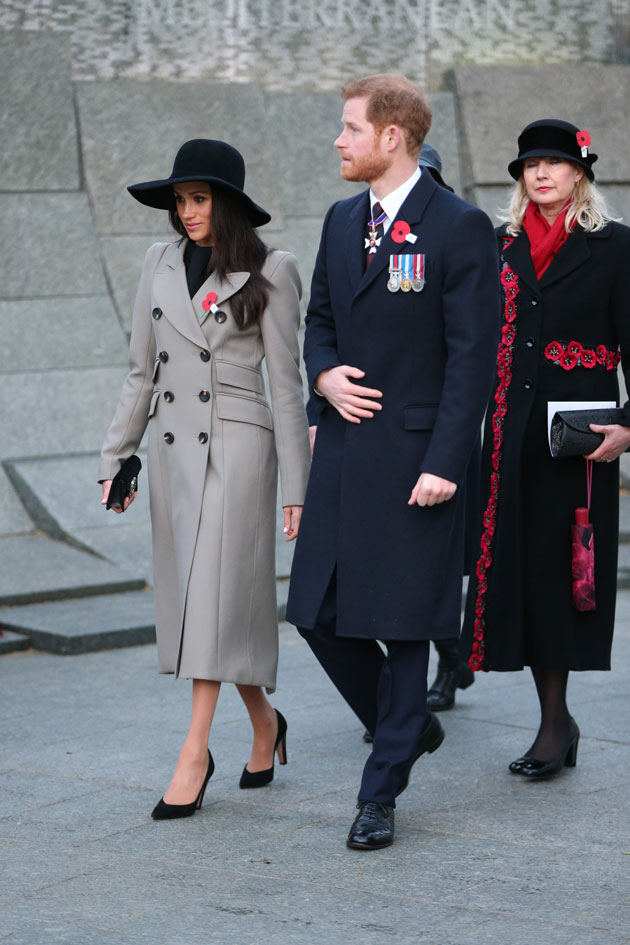 "It was really lovely to meet her and share the breath of life and share our culture with her and Harry."
The Anzac Day service marks Meghan's very first remembrance event as an (unofficial) member of the royal family.
She's attended a string of sombre, serious events alongside Prince Harry in the months leading up to the pair's wedding. On Monday, the couple headed to the Stephen Lawrence Memorial Service, to mark 25 years since his death.
It's thought that the couple may later join new dad Prince William, at another remembrance service at Westminster Abbey, to mark Anzac Day.