Loose Women star Saira Khan has revealed her surprising addiction in the latest episode of her podcast 'Living Your Best Life'.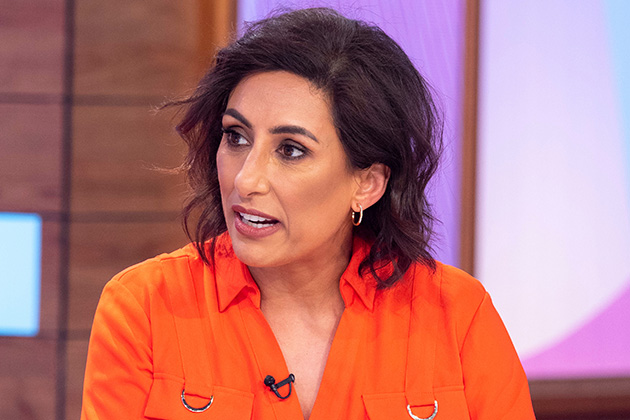 While chatting to Life Coach Stuart Holliday, the telly presenter admitted she spends hours scrolling through social media, even missing out on spending quality time with friends and family.
Read More: Dancing On Ice 2019: Saira Khan tears up as she discusses her shock exit from the show
As she discussed the new statistic that states four out of five (83%) people knowingly waste their time, 48-year-old Saira said, "I knowingly waste my time… I get addicted to social media. I am on my Instagram swiping away.
"And I've been there probably for a good hour. And I'm just thinking, why am I doing this? Why am I doing this? But I just carry on."

The mum-of-two – who shares Amara and Zach with husband Steve Hyde – also admitted she feels guilty for not spending more time with her kids.
"It makes me feel really bad," she said.
"My children are talking and I'm like, 'Hold on, hold on" […] I just think, that was actually time they wanted to spend with me'."

Life Coach, Stuart then went on to reveal why apps such as Instagram and Twitter are so addictive, as he explained, "Using social media, it's an easy distraction. It gives you a quick hit of serotonin."
Before warning, "It doesn't leave you satisfied. It just gives you an instantaneous thing. So, it takes quite a lot of effort to go and do something that's more deeply satisfying and that's beneficial."
This comes after Dancing On Ice star Saira recently opened up about struggling with reality TV fame, following the shock death of Love Island star Mike Thalassitis last week.
Opening up about her personal experiences, the presenter said, "I came into this business from a reality show and I was an ordinary person. I was in my 30s.
"So you go from an ordinary life and then you're put onto TV and what people see is an edited version of you. They don't know anything about you apart from what they see on TV.
"People felt like the owned me. You do go into a negative spiral. The only reason I got out of it was because I had a very supportive husband."
Saira Khan is working with Direct Line on the 'Living Your Best Life with Saira Khan' podcast. A new episode is available every Thursday. Listen here.