The 42-year-old took to Twitter after fans slated her choice of clothing.

Earlier today, Lisa Armstrong was seen going for a stroll before heading inside a Essex hotel.

As she chatted heatedly on the phone, the 41-year-old sported a star printed jumper, floral shorts, pink leg warmers and flip flops.
But it wasn't long before fans picked up on her unusual choice of dressing, with many branding the look "bizarre."
"What does she look like ?? Not doing herself any favours at all," one commented.
"Lisa's dress sense is truly awful. What has she done to herself and she needs to smarten herself up and get healthy," another said.

"Oh lisa please watch what u 4 wearing. You know the press are watching. These big tops and shorts are a no no," a third wrote.
"Did she look in her wardrobe that morning and think, 'What's the 3 things I have in my wardrobe that completely don't go together?'"another harshly said.
But the make up artist wasn't having any of it, as she took to Twitter and slammed "Leave me alone."
"Whilst I still have one ass instead of two, I'll wear what I want if that's ok by you….. Erin Brockovich #pinklegwarmersrock #washavingaspaday #leavemealone #creepymeninbushes" she defiantly hit back.
Loyal fans rushed to her defence, as they shared messages of support following her split from Ant McPartlin in January.
'Good on you Lisa, how I feel for you hun having paps everywhere you go. Nobody should be treated like you have these past months. Stay strong Lisa and carry on doing what your doing, you rock girl!!!! xxx" one said.
Lisa's outing came just days  after Britain's Got Talent judge Ant, 42, was seen kissing his new girlfriend, Ann-Marie Corbett, during a walk in the park.
It's believed the estranged couple are close to coming to an agreement, before they submit their divorce papers to the courts, with Lisa reportedly filing for divorce on the grounds of adultery.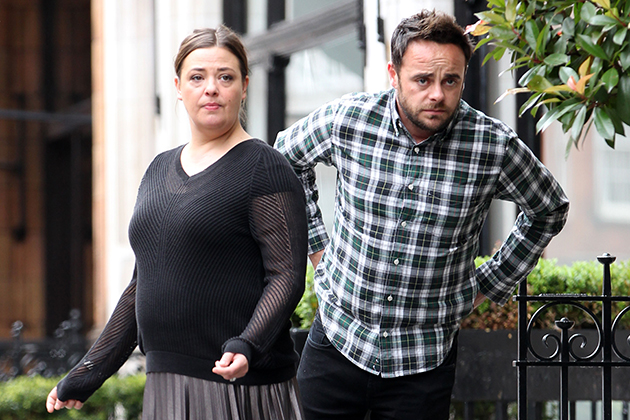 "Ant doesn't want to hurt Lisa — he just wants to bring it to an end as quickly and as painlessly as possible," a source told The Sun
"He is on the verge of accepting his adultery but only very clearly on the technical basis that he has to — while making sure Lisa agrees that it only happened months after their separation.
"These talks have been ongoing during recent days and they are bearing fruit, it was feared it would spark a battle royal between the two but they are working to put their differences to one side and an agreement is close."