The Birds of a Feather star tells us her weight loss is putting a strain on her marriage
Linda Robson claims to feel the best she ever has at the age of 60, after losing three stone and getting back into size 10 clothes.
But the Loose Women star has recently come under fire for being 'too thin', and, according to Linda, it's not just strangers on the internet who think she's gone too far – her husband of 28 years, Mark Dunford, agrees.

In an exclusive interview, Linda tells us, "My husband keeps saying, 'You're too thin, you need to put on some weight.'"
FEELING THE STRAIN
Linda's devotion to the gym, and a sugar-free, alcohol-free lifestyle, has seen her weight plummet in the past 18 months – which Mark was initially 'really pleased with'.
After losing the first couple 
of stone, Linda confessed, "My husband Mark is just really pleased that I'm much healthier now. He's always gone to the gym."
Fast forward a few months and Linda has lost another 7Ib, leaving Mark concerned she's now 'too thin'.
"My husband keeps saying, 'You're too thin, you need to put on some weight.' He thinks I've lost it in my face, but I'm eating really healthily," she exclusively tells Woman.
Linda's children are concerned, too. "They've said, 'That's enough now, Mum. You need to calm down.'"
FAMILY FEARS
It was Linda's dedication to her family that inspired her lifestyle overhaul in the first place, following a diabetes scare.

"I've got two young grandchildren," she previously said, discussing her motivation to stop sinking a bottle of wine every night. "One's nearly two and one's six, 
and I want to be around for their proms, their engagements and all of that."
Now it's gone from one extreme to the other, as Linda admits to running around the kitchen to hit her daily target of 10,000 steps. The actress' family have suggested she should slow down, asking her to 'calm down on the exercise front'.
But Linda insists she has no plans to 
go any further, saying, "I don't want to lose any more weight. I want to stay 10 stone."
A CAREER COMEBACK?
Linda believes the key to a lasting marriage is partly down to putting family before work.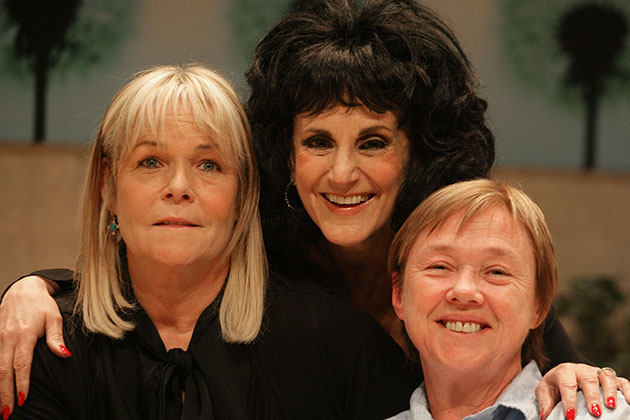 "Whenever a job comes in I always ask them, 'What do you think I should do?' There was something that came through and I wanted to do it and they said, 'No, I don't think you should do it,' and they were right. You need that work-home balance."
But with her new shape – which she says is the 'best' she's 'ever been in' – Linda is no doubt contemplating career options, and tells Woman she wouldn't rule out the chance to star in a soap.
On the possibility of an EastEnders cameo, she says, "Never say never, but I don't know if I'd look to do the hours they're doing."
NEW LEASE OF LIFE
Feeling more confident than ever, Linda takes pleasure in donating clothes that no longer fit her to the Marie Curie charity, including scarves she used to 'hide behind'.
"It was like a comfort blanket," she explains. "There are so 
many scarves I've not worn for a while. Now it's coming to winter, I'll be wearing them for a different reason – to keep me warm, rather than hide behind."

Now she's 'in her prime', Linda is doing a sterling job of juggling her home and professional life.
The 60-year-old makes no secret 
of how much she adores her grandchildren, but she tells us she was in trouble last week for working too much!
"I have nanny duties," she explains. "I'm in trouble because I'm doing Loose Women tomorrow so I can't do my nanny duties."
One thing she won't be passing up the opportunity to do is a Birds of a Feather comeback, which she hints could be happening in 2019.
"Not this year, but it's 
the 30th anniversary next year, so fingers crossed," she teases. Let's wait and see…