They may be divorced, but 
behind the scenes 
the Redknapps 
are getting on 
better than ever

The clue is in the name. Sure, Louise Nurding may not have the same showbiz ring, but the significance of her remaining a Redknapp is not to be underestimated.
Now Louise, 44, has opened up about her relationship with Jamie, and the news is more positive than anyone expected.
"It's been really tough, but you know, he's my best friend," Louise told Jamie Theakston on his radio show. "I saw him yesterday and it was all good. We had school meetings and stuff, like you do."
It was a glimpse of how life has panned out for Louise and ex-husband Jamie, 45, since they split in 2017. They are spending large amounts of time together, and while no romance is involved (yet!), it seems their connection is as strong as ever.
"There is so much more to love than just wanting to rip each other's clothes off," 
a close friend of the couple tells us. "It's just a shame that it took breaking up for Jamie and Louise to recognise that."

Growing in confidence
They never fell out completely, but there's no denying that things were frosty between the Redknapps for a while.
Jamie worried that Louise's head had been turned by her time on Strictly Come Dancing in 2016, hanging out with a younger crowd and moving on.
Meanwhile, Louise agonised over the fact that her blooming self-confidence was creating more distance between 
herself and Jamie.
Thankfully it was their 
love for sons Charley, 14, and 10-year-old Beau that helped them weather the storm.
"When one of your wife's 
new closest friends is a wild child like Daisy Lowe, it's enough to make any guy in 
his mid-40s feel insecure," 
the family friend adds.
"It's fair to say that Jamie resented the changes in his wife. She had always put family first and very much had her career on hold for the kids.
"Suddenly she was painting the town red with her showbiz mates and Jamie was most definitely not invited. He felt marginalised and, yes, he did have a short temper about it."
"Thank God for the boys. They have been the glue which held this family together – and now everyone is enjoying the benefits."

Not moving on
Despite the split, friends say there's no sign of the couple moving on to pastures new. Louise has undergone a major makeover, but it hasn't been the cue for her to join Tinder.
Jamie, meanwhile, has been "bowled over" by the transformation his ex-wife has gone through. "There is a spark there now which he hasn't seen since the very early days – way back when she was in Eternal," says a friend of the star.
"Frankly Jamie fancies the pants 
off her again. Maybe it's the forbidden fruit thing, but he's enjoying flirting with a beautiful brunette. It cheers them both up."
Louise has always been close to Jamie's dad, I'm a Celebrity winner Harry Redknapp, and it's understood that he's urged the couple to carry on spending time together.
But that doesn't mean life will be plain sailing. "Someday, everything will make perfect sense," Louise 
said in a recent cryptic Instagram post. "So for now… keep reminding yourself that everything happens 
for a reason." It seems she's keeping her feelings close to her chest.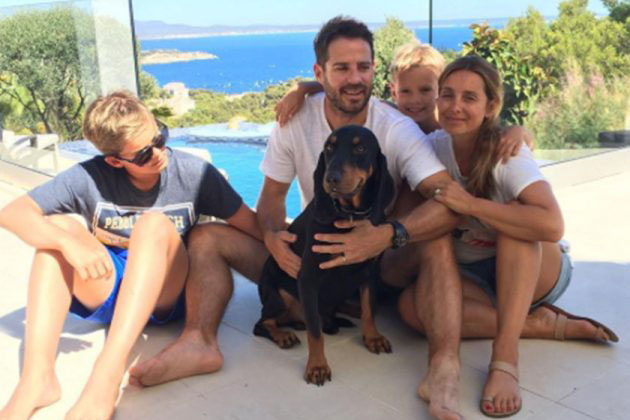 Swings and roundabouts
With Louise and Jamie back in harness, friends have inevitably been gossiping about a possible reconciliation. But anyone expecting them to go public any time soon is in for 
a frustrating wait.
As a pal of Louise's 
told us, "It's so confusing 
for them because they 
never seem to be quite 
on the same page.
"Louise was devastated when Jamie was being linked with other women and she has worked hard 
on her fitness and social life. Then once she was back on her feet, looking incredible 
and finally happy on her own, suddenly Jamie looks up and goes, 'Hang on, remind me why I split up from this goddess?'
"So it's easier all round if they concentrate on being friends. They really are great mates and 2019 has started off really well."
Nothing to see here for now, then. But if it keeps going like this, who knows what might happen.