We've all learnt by now not to tune into I'm A Celebrity… Get Me Out Of Here! while eating our dinner. After all, no one wants to watch a bunch of celebs chow down on fermented eggs while tucking into an omelette.

But last night even the strongest of stomach's were turned when Noel Edmonds and Harry Redknapp were forced to consume a feast of sheep's brains and fish eye juice to win meals for camp.
Yup, after being released from their Emperor and adviser titles, the pair were immediately forced to take on a trial described as the most disgusting ever on the show – and it even brought host Holly Willoughby to tears at one point.

Firstly, the challenge – named Nero to Zero – saw the pair holding a load of critters in their mouths for a minute at a time in order to win gold stars.
As well as stick insects, cockroaches and lobsters, football manager Harry had to hold six beach worms in his mouth, as he admitted, "I felt sure I was going to swallow one.  One was really deep down my throat."
The 71-year-old was then presented with six witchety grubs, as he made the disgusting confession, "One of them kept spitting something in my mouth. He had his head down that way."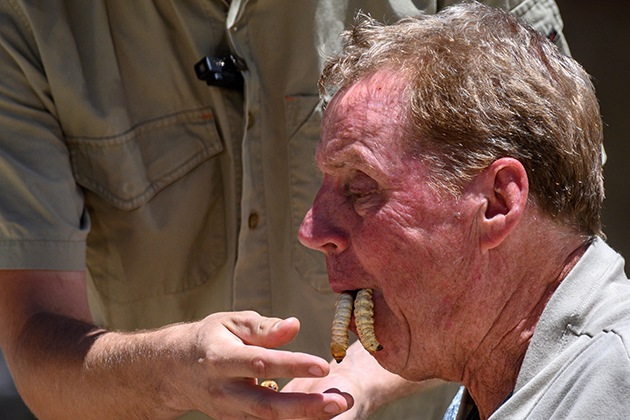 If you thought that was bad, Deal Or No Deal star Noel, 69, faced the worst part of the challenge when he was handed a massive huntsman spider to hold in his mouth for a full minute. Eek!
But the worst part of the Bushtucker Trial came when the stars were given a sheep skull and a bowl full of fish eyes by presenters Holly and Declan Donnelly which they had to eat in order to get all 11 stars.
Insistent on doing the challenge, Harry then brought Holly, 37, to tears when he said, "I struggle to eat the food honestly in the jungle that we get into camp.  I don't think I've really ate anything (much) so this is going to be difficult for me.  I've got to do it.  I've got the grandkids watching.  I can't let them down."

To which the emotional This Morning star replied, "Oh Harry, you've made me cry."
Luckily, the brave duo managed to power through the trial and bring home ALL the meals for camp – making for some very happy celebs later that night.
But it looks like fans of the show were a little traumatised by the episode as they took to Twitter branding it the 'most disgusting moment' ever!
"This eating trial is horrendous! Actually making me feel sick #imaceleb #toofarthistime #rough," wrote one Twitter user.
While another added, "Now I'm REALLY going to be sick! #imaceleb @antanddec @hollywills."
And they weren't the only ones…
Wichety grub, anyone?
Taken from our sister site, CelebsNow.