The popular This Morning host stands
 by her good friend
Holly Willoughby and Phillip Schofield have been together on our screens for the last 10 years and they're close in real life, too – so much so, in fact, that their families even holiday together.

So it's no wonder that the fallout from Phil and Amanda Holden's reported feud has hit Holly hard, considering it first blew up when she went to Australia to host I'm A Celebrity… Get Me Out Of Here!
We're told Holly is particularly upset because, if she hadn't gone to Oz, the row may never have kicked off. But our source reveals, "Holly is prepared to stick her neck out for Phil. He's more than a friend – he's a business mentor she really looks up to."
After admitting Phil "put his career on the line" to get her a job on This Morning, it's no surprise she's upset for the man she calls "one of my best friends in the world".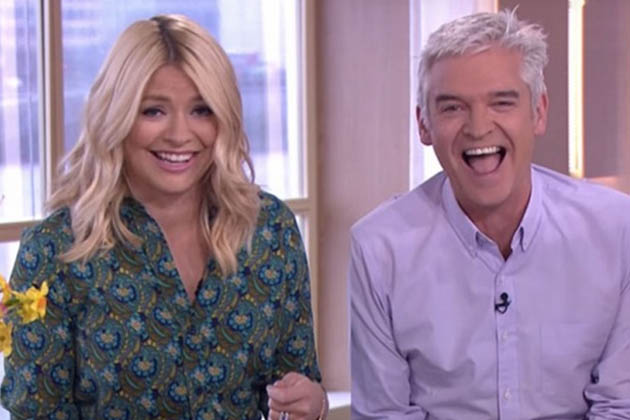 Social support
Holly, 38, usually keeps her private life just that, and has never been one for over-sharing on social media, but she did come to the defence of her pal.
After it was claimed that Amanda had taken her issues with Phil, 57, to ITV bosses, he tweeted, "The end of another really sad weekend. When you try for 35 years to be the easiest, most fun person to work with and you read such hurtful and wildly untrue stories… Obviously I'll take it on the chin. I just hope you know me better."
Siding with Phil, Holly – who doesn't appear to follow Amanda Holden on social media, despite following a number of other celebrities – liked the tweet. And she recently took to Instagram to gush, "Talking of important men in my life. Here's another one. Love you." Phil replied, "Aww thank you bestie. Love you too."

Tough business
Amanda was reportedly left hurt after she believed she was being lined up to step in on This Morning while Holly took Ant McPartlin's role on I'm a Celeb last year, only to be told she didn't have the job. It was later claimed that Phil vetoed the decision and requested Rochelle Humes instead – with sources saying he thought the singer was "easier to manage".
Our insider says, "Holly 
is very loyal to Phil and she feels that he's had a tough ride from people and that 
it's not deserved."

A helping hand
Holly's loyalty to Phil dates back to when he pushed for her to get the job on This Morning back in 2009.
Phil said recently, "I see Holly as my sort of younger sister. She was the only person I wanted to replace [Fern Britton]. At the time, it was a tough sell, but I knew it would work. Holly's a very bright woman and a very good broadcaster, but the other thing that's essential is the fact that you 
like somebody."
Holly recently said, "When it comes to TV, 
Phil gives really good advice. He practically put his own career on the line to get me this job."
Our source adds, "She very much credits him with getting her the 
gig she really wanted when her kids were little. Phil fought her corner. Her work was on prime-time shows like The Xtra Factor, and 
she really struggled to 
juggle motherhood with 
that commitment.

"As far as Holly's concerned, Phil rescued her from that situation and put her in a position where her career could really blossom."
That's what friends are for
Holly and Phil will never just be colleagues, as our source explains, "The fact they holiday together is more than a photo opportunity. They genuinely enjoy each other's company."
Holly revealed last year, "My kids love Phil. It's really nice. We like going on holiday to the same place, so we meet up there.' Phil added, 'Holly has the most delightful children. She's an amazing mum."
Our source adds, "Holly is prepared to stick her neck out for Phil because she respects him and 
values him as a friend and ally. Nobody should underestimate her in these situations."