As the Duchess continues to break with convention, eyebrows are being raised…

On the surface the new Duchess of Sussex seems to be settling into the royal family perfectly since her marriage to Prince Harry in May. But Woman can exclusively reveal that beneath the surface, cracks are starting to show. Unlike her sister-in-law Kate, Meghan's inability to toe the line is thought to be causing friction, with her antics described as 'the Meghan circus'. And with her father giving an interview to Piers Morgan on GMB last month, it appears her family are prepared to ride roughshod over protocol, too…
A Royal Rebel
A successful woman who overcame the odds, Meghan was never a conventional choice. But, for some, her inability to conform is an issue.
Meghan recently wore a floral maxi dress to a friend's wedding, which did not go down well with royal fans. One wrote, 'It's just too big! It reminds me of how my little girls looked when they dressed up in my clothes.' Another said, 'I fear it's not the first time and won't be the last time she gets it wrong.'

Days later, Meghan appeared 
to break the rules again by not wearing a name badge at Ascot. She also opted for an outfit strikingly similar to one the late Princess Diana wore to the same event in 1986.
As Woman previously reported, Meghan is a huge fan of Diana and is always keen to channel her, and this could also be her way of endearing herself to the older royals – especially as she reportedly calls the Queen 'Mama', just as Diana did. But is Meghan alienating the younger royals in the process?
Clashes with Kate?
One person in particular, we understand, who's been quietly taken aback by Meghan's rule breaking is Kate – who's been a dream royal since marrying Prince William in 2011.
With the general feeling from the public that Meghan's outfits are 'getting worse', 'scruffy' and often 'inappropriate', it's no surprise she's started taking inspiration from Kate and wearing similar brands.

With Kate having always been a huge fan of high-street fashion, it's no coincidence that Meghan wore a Marks & Spencer 
dress to a society wedding.
And, according to our royal source the mum-of-three is not overly happy about it.
Despite hitting it off when they first met, Kate has 'drifted apart' from Meghan, as have Princess Beatrice, Princess Eugenie, Pippa Middleton and even Zara Phillips.
'They've struggled to make a connection with Meghan,' explains our insider. 'They're a pretty relaxed bunch, but they feel like Meghan keeps a wall up and spends more time ingratiating herself with the older royals rather than the younger ones.'
Faking It
Given how different she is to Kate, it's no wonder Meghan is finding it harder to fit into the royal family – and her own relatives aren't helping. Just when it seemed the humiliation caused by her father Thomas Markle had died down, he did his first live interview…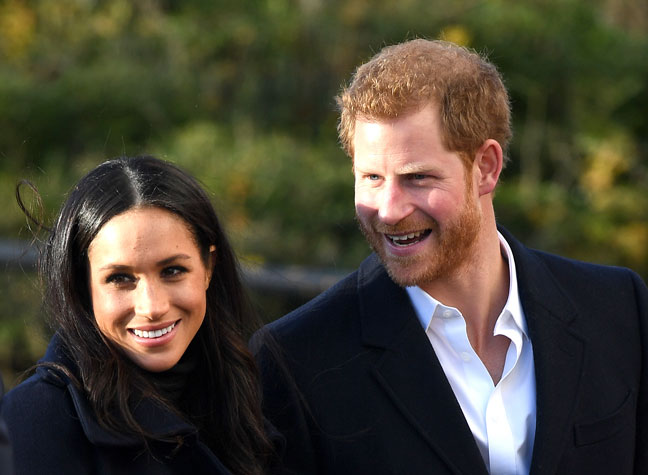 In it, he confessed he'd told Harry 'never to raise a hand against my daughter', which is said to have left the royals totally mortified again.
'There's a concern we haven't seen the real Meghan yet. It's clear she comes from a fairly tough background and it seems she's struggling more than Kate ever did,' our source adds. 'Her family doing interviews on national television isn't great and is pretty unheard of.'
Only Time Will Tell
Having fallen in love with his wife's spirited character, Woman understands Harry is still very much in the honeymoon period.
'He's completely under her spell and desperately wants it to work. He loves that she doesn't fit the mould and that, to some extent, his mother's legacy lives on. Diana, after all, was a non-conformist and loved by millions,' our source says. 'In public Meghan seems like a royal success story, but behind the scenes she may be anything but.'