Ever since Friends ended all the way back in 2004 (how has it been that long?!), we've been desperate to see the beloved stars of the show unite.
Whispers of a Friends reunion have hounded the shows actors and actress for years, but stars including Jen An and Lisa Kudrow have regularly dismissed them – sob.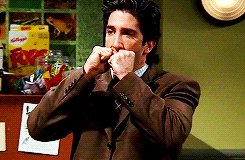 But fans of the show were treated to a mini reunion today of one well-known and much-loved couple from the popular US sitcom.
The actresses who played Carol and Susan, the show's only same-sex couple, dropped in on today's episode of Lorraine, and fans LOVED it.

The pair are back in the UK to promote Friendsfest, the touring set of the hugely popular programme.
Jane Sibbett and Jessica Hecht first appeared on the show a huge 23 years ago, in one of the show's most important storylines. Jane played Ross Geller's first wife Carol. Early in the show, Carol slowly began to turn her affections from her husband to Jessica's character Susan.
And fans will remember Ross' hilarious reluctance to welcome Susan after the couple got married…
Discover & Share this Tv GIF with everyone you know. GIPHY is how you search, share, discover, and create GIFs.
The appearance of a lesbian couple was a rare sight on our television screens all those years ago. And live on Lorraine, the actresses commented on how groundbreaking their storyline was at the time.
Lorraine commented on how "trailblazing" the pair were for TV, leading Jessica to comment that they thought it was the first same-sex wedding to ever be shown on TV. "But then we found out there was a same-sex wedding on Roseanne."
Jane also explained that their on-screen wedding was actually banned from being shown in some places. She explained: "But it was the first lesbian wedding, so they blocked it out to some of our affiliates in America". Laughing, she continued, "And because they blocked it out, we got so much extra press from it."
While Jessica told Lorraine, "We won awards for that. That was nothing to do with us but we won a GLAAD Award, so it was remarkable."
Fans reactions to Carol and Susan…
And fans cleared adored the return of the couple to TV, with one commenting that it was "a lovely surprise"
Other viewers couldn't BELIEVE how little the TV pair had changed, with one noting that they hadn't aged a day since 1996.
Now, we just need to see Ross and Rachel, Monica and Chandler, and Joey and Phoebe reunite, right?