The presenter-turned-fitness guru tells us how an early menopause gave her a new lease of life and why she's walking into 2018 loving her legs
Davina McCall is back with a new DVD, Toned in 10, to help you work off those excess Christmas pounds.
We caught up with the star, 50 – who announced in November that she had separated from husband Matthew Robertson after 17 years of marriage, vowing to make their kids, Holly, 16, Tilly, 14, and Chester, 11, their 'No1 priority' – to talk all things health and fitness…
"I'm really excited about the DVD coming out. I did this one with a lady called Sarah Gorman, who I discovered through going to her brilliant classes.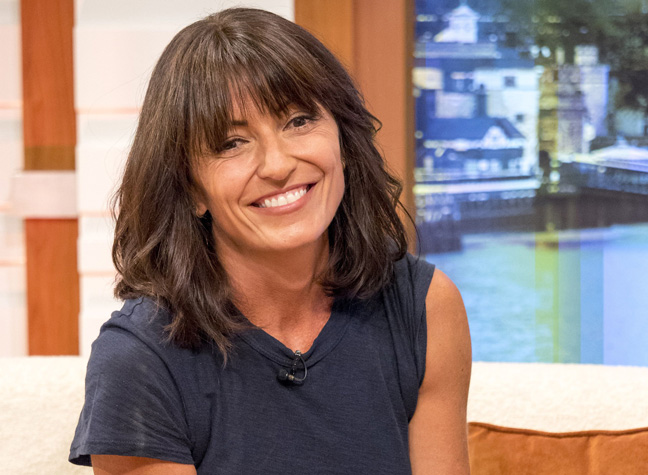 "Since I've been working with her, my body has changed shape. The biggest change is my legs. I haven't always been a big fan, but I love them at the moment."
"A lot of the exercises on the DVD are about core strength. There's also some cardio and even some dance moves.
"It's all set to really motivational music, which was important to me. I love that element. Music has such a huge impact on people's lives."
But what about getting the diet back on travel after an indulgent Christmas? "It's so hard to get back on track once you overindulge.", Davina says.
"For me it's much easier keeping things balanced as much as possible so I don't have highs and lows. I don't eat everything I can get my hands on at Christmas and then restrict myself in January. That approach doesn't suit me.
"I would recommend keeping things on an even keel as much as possible. Sometimes there's a motivational reason to get in shape, like a wedding or a big birthday, but if you don't have anything, it's hard to motivate yourself."
"I do think it's good to sign up for something, but you've got to find the motivation to sign up to begin with. I remember being so nervous about signing up for the Great North Run, which I did last year, but it's the best thing I've ever done.
"It was a half marathon, and because I knew I was doing it, I kept fit all through the summer."
"I do usually keep my fitness ticking over in the summer. But I'm a bit more relaxed than at other times because the kids are off school. But this year I wasn't. I was out running every morning and I loved it.
"My next big event is my charity bike ride in June. I'm also thinking of signing up for a couple of 10ks so I can keep my hand in. That is not something I thought would roll off the tongue so easily!
"I have been that person who didn't love working out, so I do understand when people aren't excited at the thought of a half marathon, but if you've never tried anything like it, give it a go. It could be life changing."
At age 50, Davina has also been open about talking about the menopause.
"I don't mind talking about the menopause because it's something that every woman goes through. Women are embarrassed to talk about it. They feel 'less than' and they shouldn't do. I certainly don't. F**k that!
"I didn't have anyone in the public eye talking about it when I started hitting it. People think it's something that happens in your 50s, but it didn't for me. I got the perimenopause, which is the pre-menopause, at 44, which is quite young.
"I felt embarrassed and like I was really unattractive. I also felt unfeminine and old. And actually I'm here to say that you can get through it."
So what can you do if you feel like you're suffering?
"There are loads of options open to you, so educate yourself. Speak to your GP – they can give you great advice. The menopause is not the end of your life; it's a time of change.", Davina admits.
"Once you've got your head around that change, actually the next phase of your life is really exciting. Especially if you're lucky enough to have had children and they're growing up and becoming a bit more independent."
"You start thinking, "OK, now is my time. My God, I've raised a family and now I can start thinking about where I want to be in the next period of my life.
"You spend so long thinking about and looking after other people. Then it's about spending a bit of time on yourself."
"I'm not an expert, so I'm nervous about giving advice because what worked for me might not work for someone else. You have to go and inform yourself about the menopause. Lots of people are anti- treatment, lots of people are pro-treatment.
"I chose the path that was good for me and went on HRT – I don't mind saying that. But some people are anti that, so they shouldn't go on it. Research everything yourself and choose the path that's right for you."
Sounds good to us!
Davina: Toned in 10 is available to own on DVD and digital download now