She dropped an incredible 2st at the end of last year, after teaming up with Real Housewives of Cheshire's Ampika Pickston, and Kerry Katona is showing off the results.

Taking to Instagram, the 37-year-old paraded her new figure, as she posed with her rear towards the mirror and drew  attention to her ass-et.
"GOOD MORNING everyone…. GO AND FOLLOW @resultswithkerry 💪💪👊🏻👊🏻👊🏻👊🏻" she captioned the snap, directing her 199k followers to her fitness page.
Within seconds, fans rushed to comment on the bootilicious snap,  flooding the section with peach emojis, as they praised Kerry on her "amazing" derriere.
"Scrumptious view," one wrote cheekily.
"My goodness. Your figure is amazing," another said.
"Can I say you are looking damn fine. Keep up the good work angel x x" a third commented.
"Wow, Kerry! You're seriously looking great!" one added.
Kerry's body overhaul comes after she moved in with 'wifey' Ampika in October, following her split from her third husband, former rugby player George Kay.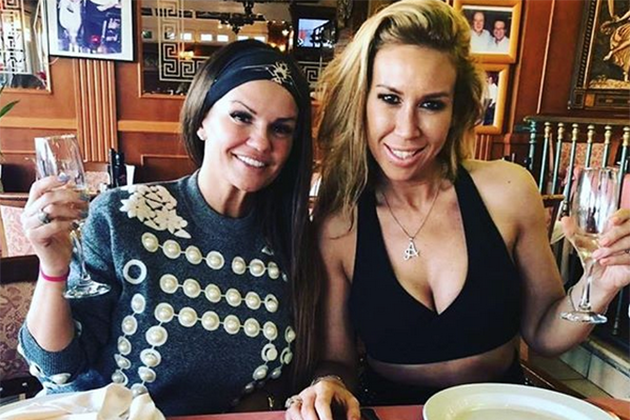 The pair embarked on a strict fitness journey in November, using Ampika's Skinny Revolution weight loss plan – which provides both nutritional and exercise advice – and relying on a diet of balanced meals and pressed juices.
And Kerry showed off her new body a month later, wearing a pink crop top and leggings,  as she told her followers: "Woohoo I've lost over 2 stone, feeling on top of the world! Big shout out to @ampikapickston1 #skinnyrevolution 😘😘😘"
However, some fans weren't convinced the former singer – who had weight loss surgery in 2008, two rounds of Lipo and a tummy tuck in 2012, and more Liposuction in 2016 – had lost the weight naturally, as photos later emerged of her on holiday in Spain, showing off a mark at the bottom of her stomach.

Nevertheless, the mum-of-five insisted that the blemish is a caesarean scar she was left with after having her daughter Heidi, 11.
"I had a C-section scar from Heidi and the surgeons went over that when doing the tummy tuck," she said.
While she confessed to using The Skinny Revolution's weight loss injections – which are injected into the stomach each morning to suppress the appetite -Kerry shut down claims she'd had more surgery, as she credited morning yoga sessions for keeping her toned.
"[It's] just yoga. Every morning I get up at 5.30am, go to my front room, switch on my TV and do half an hour," she revealed in an interview.
"Sometimes the kids do it with me before the school run. I've got abs from all the core work."
Keep up the good work, Kezza!