We're used to seeing Eamonn Holmes and Ruth Langsford having tiffs on This Morning, but nothing can spark a debate for a couple quite like where to spend Christmas.
And it seems this has been the case for Ruth, 58, and Eamonn 59, as they call Surrey and Belfast home respectively – despite eight years of marriage. In fact, Eamonn recently told Woman they're 'yet to settle' on the 'complicated decision'.

With Eamonn being a self-confessed Scrooge and his wife loving Christmas more than Mrs Claus, we're sure there were fireworks long before NYE…
All alone at Christmas?
Eamonn has always insisted his wife is 'Mrs Christmas' while he's more than happy to sit back on the big day with a drink. Speaking to Woman in November, he 
even went as far to say she's 'Christmas obsessed'.
He previously added, I tend to be more laid-back.' But it seems one thing Eamonn isn't willing to compromise on is seeing his loved ones in Ireland – meaning the couple will need to split the festive period across more than 400 miles if they want to be together.

The pair often scrap openly with Eamonn often speaking his mind. From claiming she'd 'put on weight' to poking fun at her 'turkey neck'.
When Woman asked Eamonn about their plans, he wasn't certain. 'It depends on where you see as home. To me this is Belfast, but for Ruth it's Surrey, so it's complicated.'
Cheeky comments
As well as disagreeing with his wife on where to spend Christmas, Eamonn even asked Santa Claus live on This Morning what kind of day he was in for.
'Will I be waking up to 
a lovely Christmas, Santa?' Eamonn asked when Ruth was out of earshot. 'Santa' replied, 'Well, you've got Ruth! You're a lucky man.' But, never one 
to refrain from making a cheeky comment, Eamonn said, 'Could we not make it better?'
And Eamonn's joking at Ruth's expense has landed him on the naughty list, as Santa retorted, 'I think you took advantage, she got the raw end of the deal.' Ouch.
Present pain
They say it's the time of year for giving and receiving, but Eamonn previously branded Ruth 'creepy' for the amount of presents she bought him for one of their first Christmases together.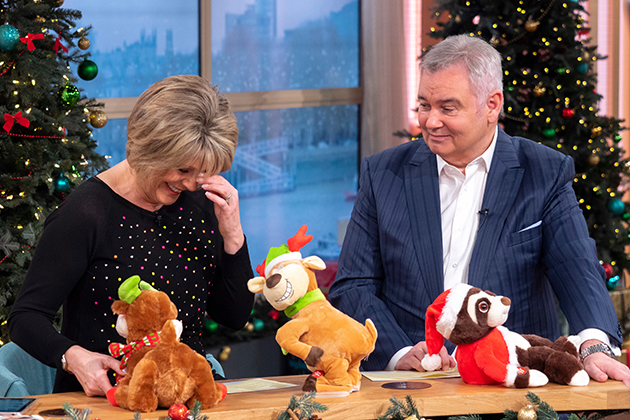 He said: '[After we exchanged] about four or five gifts… after my fifth gift, I've run out of gifts and Ruth says, "Ah, I've got some more for you." Then she gives me the fifth gift, the sixth gift… it went on to a total of 44 gifts… It was a bit creepy.'
He even went as far to say his future wife was 'a bit intimidating' and 'trying to buy his love'. We wouldn't be surprised if he's found a lump of coal under the tree every year since!
A Christmas miracle
But despite having such conflicting opinions when 
it comes to Christmas, Eamonn was confident they'd work it out as they always do, saying, 'It's always complicated but we sort it out.'
And Eamonn – who has 16-year-old son Jack with Ruth – might complain about her love of the festive period, but it sounds like he really enjoys having someone else to take care of it all.
He said previously, 'There's loving it and there's being addicted to it and she's OD-ed on it. Ruth's the person who makes Christmas happen.' Let's hope they reach an agreement and this isn't the first year they have to spend away from one another!