When Andrea McLean presents Loose Women these days, we're used to seeing her with a sleek and glossy hairstyle.

So fans were understandably floored when the popular TV star shared an amazing throwback photo, debuting a far different hair-do.
On 3rd September, the 48-year-old shared a photo of herself when she was at school, in honour of a #Back2School campaign for an anti-bullying charity.
In the snap, Andrea was seen sporting a curly perm that couldn't be more different to her current hairstyle – but that was surely super-stylish at the time.
The fresh-faced star however looks like she hasn't aged a day since the photo was taken – with many commenting on how her brows were just as sleek as they are now!
A wave of fans also commented on her incredible perm, with one saying, 'Great perm😂😂😂', while another wrote, 'You remind me of 'baby' from dirty dancing in that pic 💕💕'
Another social media user wrote, 'Beautiful back then and still just as beautiful now.', while a fourth commented, 'Fab eyebrows… always @andreamclean1 🙌🏼'.
On the post, Andrea also shared some sage wisdom about bullying, advising schoolchildren to talk to someone if they're suffering.
She wrote, 'My #Back2School advice is to find someone to talk to, and tell them what's happening to you. Don't suffer in silence…'
'Join me and go #Back2School with @AntiBullyingPro and share your school photo. Find out why I'm supporting this campaign at http://back2school.antibullyingpro.com/'.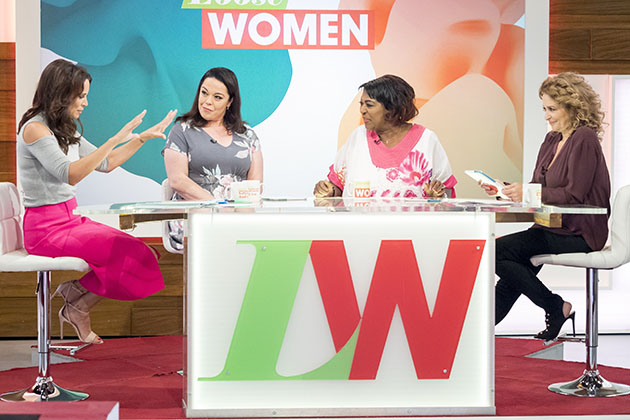 Andrea's followers also praised her helpful advice, with one saying, 'This is such good advice and something I talk about with my children'.
Another agreed, 'Well done @andreamclean1 schools need to do more to combat bullying xx', and a third said, 'Such great advice. And love this photo 😘'.
Loose Women star Andrea has recently sent her own daughter, Amy, off to her first year of secondary school – and confessed that it wasn't proving easy.
On another Instagram post, she admitted, 'Seriously, day two of secondary school and the attitude has started ALREADY. Give me strength!
'I think the next book to change my life will be a 'parenting a pre-teen who thinks the world revolves around her' one!'