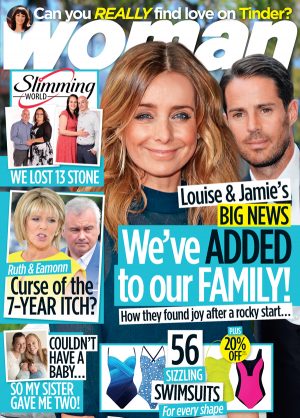 She may have lost out on the top Britain's Got Talent spot, but it seems that singing sensation Susan Boyle has still emerged as a winner in the money stakes. The 56-year-old has amassed a loyal following of fans both here and in the States, selling a whopping 19 million records worldwide.
Su-bo has two Grammy nominations to her name and looks fab after slimming down and revamping her style! And while she's known for putting family before fame, she surely has to feel a little pleased with the earnings she's bankrolled. Totting everything up the hit-maker is estimated to be worth a staggering £22 million!
Not too bad for a girl from Blackburn!
Susan Boyle and more – only in this week's issue
For more celeb news, and to read all about Louise & Jamie's news from our front cover, pick up the brand new issue of Woman from your local store this week!
All this and more in the latest issue – so why not subscribe today?
PLUS, more remarkable real life stories, including the woman who lost 13 stone because of a family photo! Also we have the best beauty buys on the high street and this season's must-have fashion on the high-street. In addition, we have all your usual favourites, including your emotional health questions answered, weekly puzzles, and TV gossip!