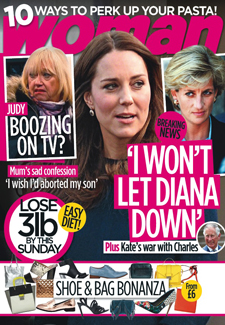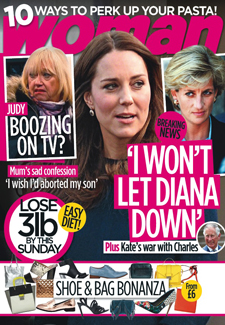 In this week's issue of Woman magazine, read the latest celebrity news and gossip, and find out why the Duchess of Cambridge is fighting for her family. Plus, read our EXCLUSIVE interview with intrepid adventurer Bear Grylls, find out from Claire Sweeney what her weekend top 5 is, and the gorgeous Chris Hemsworth chats to us about fame and family life. 

We've got heartbreaking real life stories, inspirational tales from women who won't be told they 'can't', and the dramatic story of the woman who wishes she had aborted her Down's Syndrome baby…

Plus our favourite fashion pieces, our pick of the new season accessories, banish bad hair days for good, and your guide to the perfect eye shadow.

All this, as well as the back to basics diet plan to help you drop three pounds in one week, amazing supermarket deals from our food editor, delicious toppings and sauces to perk up your pasta, and the full round up of what to do if you're planning on staying in or going out this weekend.

 

Download your issue of Woman magazine today via your tablet or iPad.