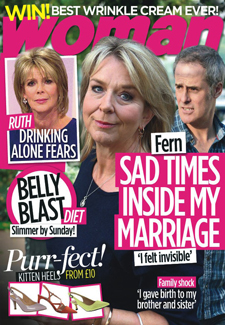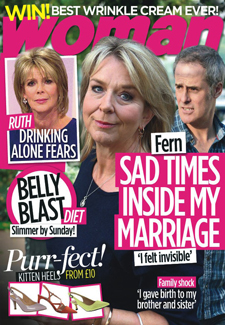 In this week's issue of Woman magazine, the story behind Fern Britton's struggle, read our EXCLUSIVE interview with presenter Nicky Campbell where he opens up about co-host Davina McCall, Geri Halliwell's journey up the aisle , and Michael Flatley reflects on his glittering career…

We've got heartbreaking real life stories, inspirational tales from women who won't be told they 'can't', and the dramatic story of the woman who gave birth to her brother and sister…

Plus our favourite fashion pieces, catwalk style for less, the beauty products that give you gym slim arms and the most powerful anti-agers on the market at the moment!

All this, as well as the diet plan to help you beat the bloat and lose three pounds, amazing supermarket offers from our food editor, delicious recipes that will beat your favourite takeaway option every time, great ideas for adding a touch of tropical to your home, and the full round up of what to do if you're planning on staying in or going out this weekend.

Pick up the new issue in shops, or download Woman magazine today via your tablet or iPad.