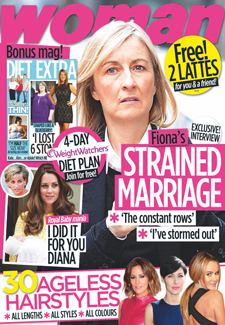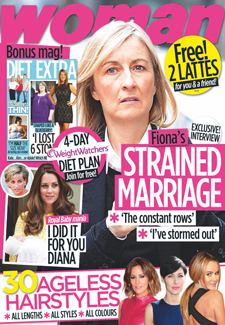 In this week's issue of Woman magazine, we've got an EXCLUSIVE interview with Fiona Phillips about her fiery marriage, we look at how EastEnders saved Danny Dyer, Conchita Wurst talks to us exclusively about growing up gay and her ambitions for the future, and Martin Clunes reveals how he spent the 90s behaving badly!

We've got heartbreaking real life stories, inspirational tales from women who won't be told they 'can't', and the dramatic story of the woman who was told to abort her baby…

Plus our favourite fashion pieces, the ultimate nip and tuck dresses, and all the summer hair inspiration you need for the months ahead!

Don't miss our special Diet Extra supplement this week full of shocking real life weight loss, celeb diet secrets and the WeightWatchers summer slim down diet that is super straight forward and effective!

All this as well as amazing supermarket offers from our food editor, delicious recipes for speedy Italian suppers, great festivals to visit this summer, and the full round up of what to do if you're planning on staying in or going out this weekend.

Pick up the new issue in shops, or download Woman magazine today via your tablet or iPad.