Ward off winter bugs with these tips from the experts…
1: Write positive thoughts
'Research has revealed that feeling grateful boosts our happiness,' says Susan. 'Every evening I write down three things I'm grateful for, such as my train arriving on time or how I made someone feel. Gratitude generates positivity – and this helps facing the dark, gloomy, chilly days of winter much more bearable. Plus, it also helps switch off the stress response.'
2: Fend off the flu
'Get your flu jab,' advises Superdrug Nurse Catherine Turner. 'With a bad flu season predicted for this winter, getting a jab as early as possible will give you the best chance of protecting yourself.' You'll not only protect yourself, but also vulnerable individuals you come into contact with.
'And contrary to what some people might say, you cannot get the flu from the vaccine!'
3: Catch some zzzs

Research by the University of Pennsylvania has shown a direct link between sleep and your immune system. 'Not only can a lack of sleep compromise your immunity, but it can also increase the amount of time it takes for your body to recover after a cold or flu,' says Nutritionist Julie Lamble.
'Sleep experts recommend eight hours per night.'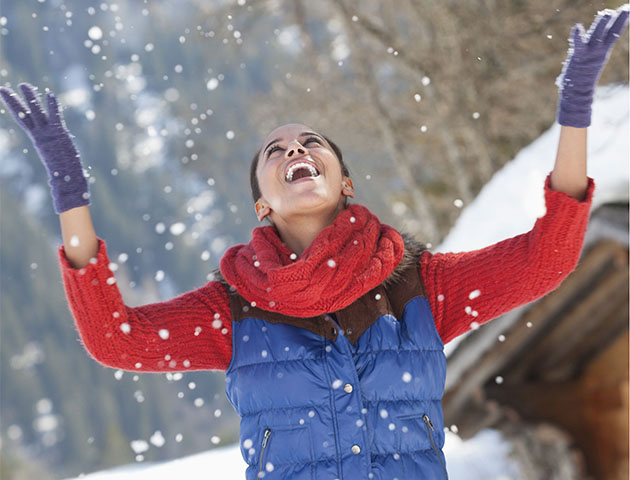 4: Light up your life

Sunshine always puts a smile on our faces, but it can put a pep in your step too. 'Natural daylight stimulates the release of the happy hormone serotonin,' says Susan Scott, Psychologist, Nutritionist and Author of How To Prevent Burnout. 'This increases positivity and motivation and keeps your mood buoyant. Plus, in the evening serotonin is converted to sleep hormone melatonin so you'll sleep more soundly too.'
5: Pump up your probiotics

They're known for increasing your gut health, but did you know probiotics could also help stop you from catching a cold? 'Probiotics are thought to directly kill or inhibit the growth of harmful bacteria and stimulate your immune system,' says Chris Newbold, Head of Clinical Nutrition at BioCare.
TRY: BioCare Everyday BioAcidophilus (£13.96/28).
6: Stay fighting fit

Exercise might not seem quite so appealing during the winter months, but working out now is important. It gets blood pumping around your body, helping circulate immune cells more quickly to seek and destroy infections. It also releases feel-good chemicals and gets oxygen into your body. Need motivation? Harkirat Mahal, from MotivatePT, recommends making a schedule. 'By scheduling in a workout, it's much more likely to take place and you avoid the "I'm too busy" excuse.'
7: Wise up on washing

Just walked in the door? With all the bacteria on trains, it's time to give your hands a scrub.'Wash your hands regularly,' suggests Boots Pharmacist Angela Chalmers. 'Clean them for as long as it takes you to sing Happy Birthday twice. For a quick fix, keep anti-viral hand gel in your handbag.'
TRY: Boots Pharmaceuticals Anti Viral Hand Foam (£3.19/50ml).
8: Boost your mood
Need help reaching your RDI (recommended daily intake) of oily fish? Try a supplement. Biochemist and Nutritionist Babi Chana recommends Wiley's Finest Orange Burst Fish Oil, £17.99/250. 'It contains vitamin D, which can help if you're feeling anxious or irritable, and omega-3 fatty acids DHA and EPA, which can help ease symptoms of SAD. It's also anti-inflammatory to help with symptoms of arthritis.
9: Fuel up

Comfort food may be back on the menu, but it doesn't need to be unhealthy. Lucy Jones, Dietician on BBC1's Eat Well For Less, warns us not to forget fish this winter. 'It's nutritious and low in fat.' She recommends switching red meat for tuna in hearty meals, or serving it with a jacket potato for a super speedy winter warmer.
Love your winter skin
Take it from blah to beautiful with these top tips
1: 'As humidity levels drop, skin becomes drier. Plus, changing temperatures can wreak havoc on your face, making it become red and sensitive,' says Dr Maryam Zamani (mzskin.com). 'Use an antioxidant serum rich in vitamin C to help protect your skin from UV damage, while also combating pigmentation.'
2: She also recommends using hyaluronic acid in moisturisers and serums. 'It will help replenish lost moisture and provide minerals to help rejuvenate.'