We talked to BA Paris, author of the bestselling psychological thriller Behind Closed Doors about living in Paris, raising five daughters and starting to write after 50

Your thriller Behind Closed Doors has been an international success selling more than half a million copies and is now being made into a feature film. How come you only started to write after the age of 50?
I decided it was time I did something for myself. I was so busy in my thirties and forties raising five children, running the household, baking and cooking that I didn't have time for very much else. When all the children were in school I began part time work as an English teacher in Paris where we lived but when my husband was made redundant, he agreed to do the household chores for a time and I devoted myself to writing novels.
When did you go to live in Paris?
Aged 21 I got a job in a bank in London while living with my parents in Guildford, Surrey. I wanted to learn French so asked for a transfer to the Paris branch. I met my Scottish husband there and although we always intended to return to England, in the end we just stayed in Paris.
Did you write when you were young?
I was always a big reader. We did not have many books at home but I read all the Enid Blytons then moved onto Agatha Christie. I also liked to write poems and short stories for my own amusement.
What inspired you to start writing at 50?
When my daughter was 16, she told me she had an idea for a book. Then I noticed a competition in a national newspaper to write a novel and told her about it. Unfortunately she couldn't apply as you had to be 18 but she suggested I had a go. I didn't win but it set me off on a writing obsession.
How obsessed did you become?
Well when I started I just couldn't stop. The words poured out of me and I would sit at my computer for hours on end, sometimes falling asleep at my desk and waking up in the small hours of the morning.
What sort of thing were you writing?
I wrote five novels of a family saga. I sent the books off to various agents but although I had many compliments about my writing, no one agreed to take me on.
How did you cope with the rejection?
I was disappointed for about five minutes, but then just got straight on with writing another book. I never let anything hold me back – I just kept writing and sending the books out to agents.
So how did you finally get your book published?
I eventually found an agent who agreed to represent me. I was so happy and told everyone about my success. However, after a few months, the agent told me she had changed her mind and would not take me on. I was so angry I sat down and wrote Behind Closed Doors in just three months. Then I decided to send the book to the one of the top London agencies – Darley Anderson. To my great joy, they accepted it and it was published by HQ.
You are amazingly hard working and resilient after all those setbacks. Do you think that was the secret to your eventual success?
Yes, I think if you want to write just keep on writing. Don't waste time being upset and disappointed by rejection. If you are a real writer, you will want to keep going and that is the route to success.
And now the book is being made into the film?
Yes, the film will be made in Hollywood and should be out next year. I'm so excited about and can't believe it's happening to me. Sadly I won't have any control over the film although they will ask my advice and I can go and watch while they make it. The only stipulation I gave them is that I want to make sure the little girl Millie is played by an actress with Down's syndrome.
What do your five daughters make of your success?
They are all thrilled by it. In fact, I was at the railway station near my parents' home and there was a large poster advertising Behind Closed Doors. I got my five girls to sit on a bench next to it and I took a picture – there they were, my six babies. And I'm so proud of all of them.
BA Paris's second novel The Breakdown is out now, paperback £7.99 (HQ)
Read more…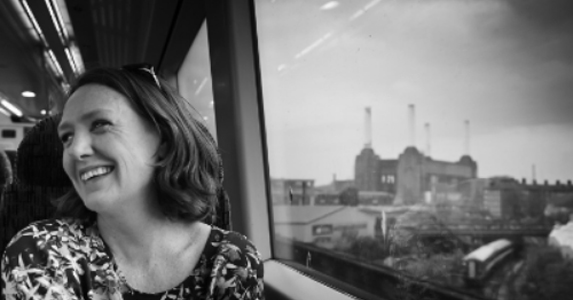 Read our exclusive interview with the talented new author

Get to know the author behind a much talked about page-turner...

We caught up with the Queen of Crime...