What would you do if you found out your partner was unfaithful?
Discovering you've been cheated on by someone you love is a horrible, painful, experience and the process of getting over the betrayal can be just as bad. But what if you chose to get your own back?
Well, that's what these people did and the results are both shocking, and at times, hilarious! You know what they say, don't get mad, get even…
These are some of the most shocking cheating revenge stories…
The girl who posted her feelings in a Facebook review…
When wife of Southhampton player Charlie Austin found out that he was playing away, she made her feelings on the matter very clear… On Facebook. After tracking down the woman he had an affair with, she then wrote her a scathing 'review'…


The husband who wouldn't take his wife's infidelity lying down! 
When Duston Holloway from Emory, Texas, walked in on his girlfriend with another man, rather than lose his cool, he reached straight for his camera.
Posting a series of pictures of the adulterous pair on Facebook he wrote:
"When you come home to find another man in bed with the woman you loved. Good men deserve good women."
Facebook users came out in full force to support the scorned boyfriend.
Adela Conde wrote: 'You got back at her with dignity. You are the better person.  I'm the type that would've gotten a bat and beaten the help
Out of both scumbags. Kudos to you for your maturity.  You're too good for her!'
While Devon Vermillion added: 'You handled it so much better than I would have. I learned from yours and others situations and hope if it ever happened to me, knock on wood, that Id handle it better based off of learning from others. You have a lot to be proud of yourself for and glad to see karma is working.'
The woman who went public with her partner's affair, in the most outrageous way! We've all heard of the saying hell hath no fury like a woman scorned. For Linda of Warwickshire, this phrase took the leap from saying to scandal, when she outed her philandering partner with a no holds barred poster for all to see.
Dotted around Warwick town centre Linda reveals the details of how she exacted her revenge before wishing the cheating pair a 'Happy New Year'.
The image – which originally appeared on Facebook – was retweeted several times, with women the length and breadth of the country not sure whether to chuckle or cringe at the unusual move.
Linda – wherever you are – we only have one thing to say – onwards and upwards!
This groom took revenge on his cheating wife – just hours after they got married!
Sean from Donegal, Ireland, appeared on The Graham Norton Show and took part in the infamous 'red chair' section of the show. The salesman, who lives in London, shocked Graham and his celebrity guests with a story about a groom who took revenge on his cheating wife – on their wedding day! You will never guess how he chose to do it! Listen to Sean tell the story by playing the video below…
This man found out his wife had run off with her personal trainer, so he sold her car and all of her clothes on eBay!
In the description, the jilted husband says of the car, "only selling as my wife has left me" before going on to say, "I hate this car nearly as much as I hate my ex who I bought it for".

This girl decided to dump her cheating ex on live television whilst he was watching one of his favourite teams play sport – fair game!

This man decided he wasn't going to feel humiliated by his wife's betrayal…
Instead, he went out of his way to make sure EVERYBODY knew who his ex's lover was with these informative flyers…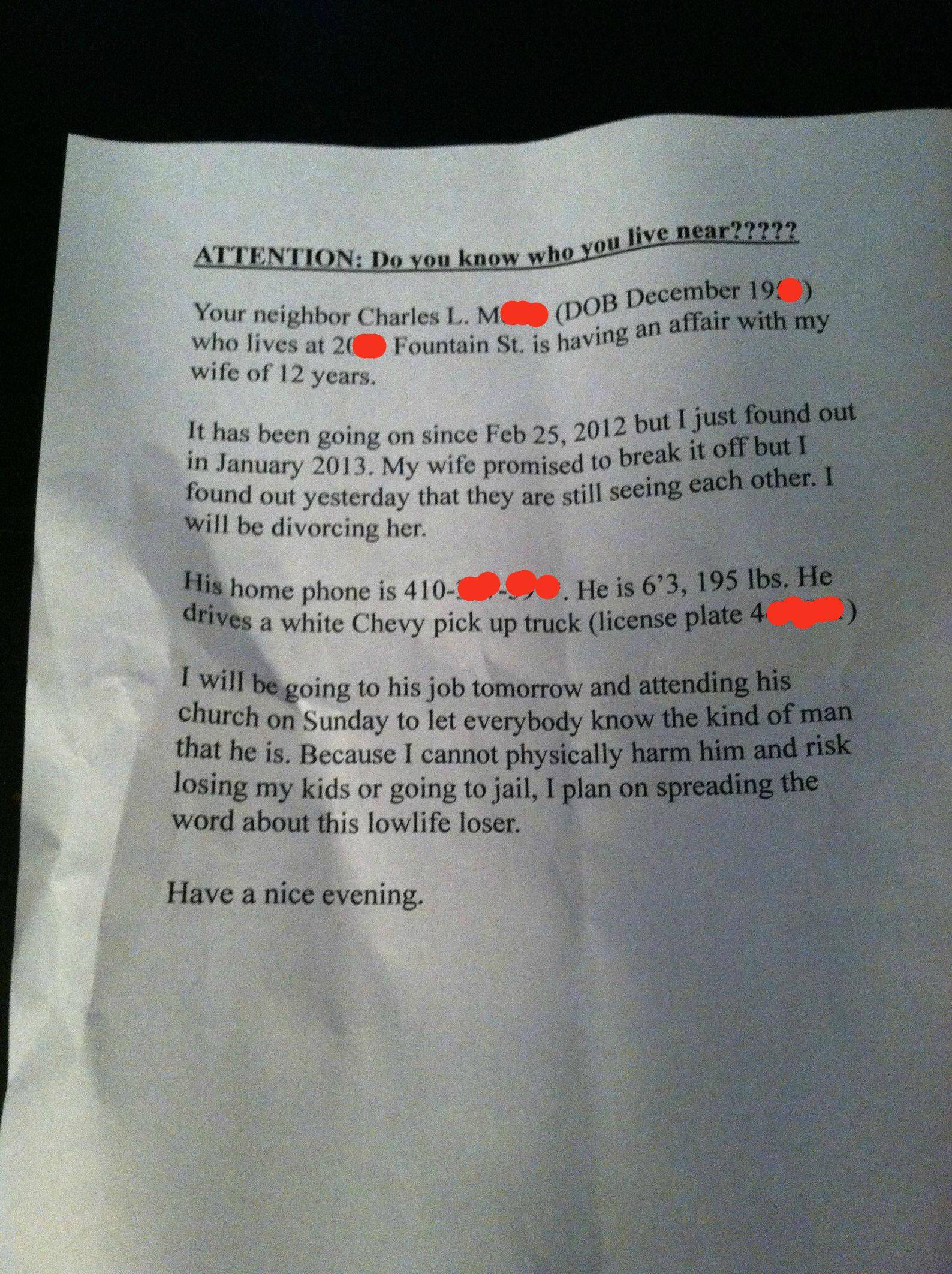 During a segment on This Morning recently, these tales from people who took revenge on their cheating partners initially left Holly & Phil shocked and stunned, before they dissolved into laughter!


This is one way to get revenge on a cheating ex…take the money and run!

Having an affair is a dangerous game, especially if you're in the public eye!
In the USA, one of President Obama's top economic advisors allegedly had an affair with a woman called YaVaughnie Wilkins. The affair lasted for eight years, but after Charles Phillips told YaVaughnie that he wanted to stay with his wife, she spent $250,000 on billboards around New York's infamous Times Square revealing their secret relationship to the world!
The photo shows one of the massive posters, with a photo of the pair with their names and a quote that reads 'You are my soulmate forever.' The expensive ploy by the spurned mistress meant Charles had to make a public and deeply humiliating statement apologising, and admitting his misdemeanours.

Have you ever exacted revenged on a cheating partner? Would you ever? Do you think that the people above took things a little too far? Tell us your thoughts by posting them in the comments below. And, don't forget – we wouldn't recommend trying any of these at home!
Want to have your say? Get involved by writing your thoughts on our Facebook wall or tweeting us – @womansown. We love hearing your thoughts!