Check out our 10 tips and tricks to waking up with amazing hair this weekend...
Hands up who wants amazing hair?!
No matter how ready for the day you're feeling, if your hair's not playing ball, your mood takes a dive. So what if there was a way you could make sure your hair looked amazing as soon as you jumped out of bed? Too good to be true? Nope! We've got the secrets right here.
The trick is to do all the hard work before you go to sleep, the motto 'always be prepared' works just as well here as it does for the Scouts! Hone your pre bed primping routine and you're set.
We've got way more time to devote to our hair in the evenings, and there are little things you can do to give you amazing hair for the next morning, even whilst you sleep! We're not talking a head full of rollers that'll keep you up all night. Or hair masks that stain your pillow cases and take an age to wash out in the morning. All of these things are totally do-able, and take no time at all.
Who knew that your choice of bed linen could effect your hair? Or that hair primer was a 'thing' or there was actually an antidote to a slept-on fringe!

Get brushing…
According to celeb hairdresser Neville Ramsay, a good brush before bed is essential. 'Use a brush with natural bristles, grooming hair from roots to tips for several minutes. It'll move your scalp's natural oils through your hair for healthy growth patterns'. We love Lee Stafford's My Perfectly Polished Finishing Touch Brush £9.99.

Make yesterday's blow dry last…
Dying to hang on to that freshly blow-dried look? Add in a few spritzes of Redken's Pillow Proof Blow Dry Express Primer £14.50 before you pick up your hair dryer to maintain the volume and hold. If it's a salon one you want to keep (lucky thing!) loosely pile your hair on top of your head and secure with a crocodile clip to make sure the body and styling stays through the night.

Grab the dry shampoo…
If you know you're skipping a wash and your hair's going to look lank in the morning, instead of doing a rush job with the dry shampoo the next day, spritz it in the night before. Rub it into your roots as normal then hit the hay, sleeping on it will allow it to absorb and do it's job even better, and you'll wake up with hair that's good to go. Batiste £2.99 is the steadfast classic.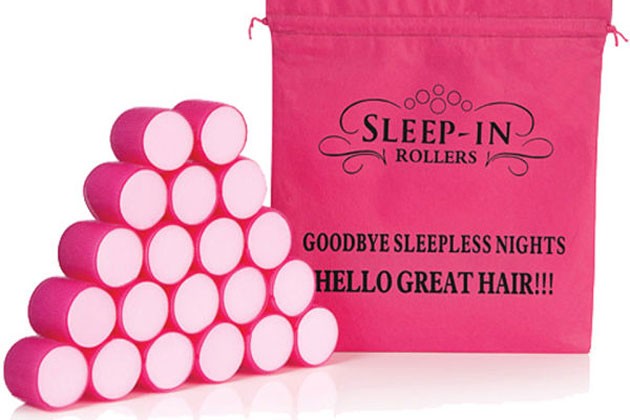 Roll it…
Sleep in Rollers £19.50 are the latest craze. Blow dry your hair in the evening, then whilst you're hair's still hot roll them up in these, they're super squishy so sleeping on them's no problemo, and when you wake up you can unfurl them for a just-blowdried look. Try them once and you won't look back.

Crocodile marvels…
This one's super easy. Make sure you're hair's just-dried, then before you go to bed, whip it up into a loose top know that sits high on top of your head, and secure at the ends with these Cloud 9 Croc Clips £5.95, they're especially designed to totally avoid kinks. Wake up the next morning and shake your top knot out for hair full of volume and loose waves.

Glam up overnight…
Ever woken up the night after a glam night out and actually preferred your hair how it looks in the morning? Curl or straighten your hair (whatever you prefer), style and fix with a loose hold hairspray, then head to bed. When you wake up, just enough of your style will still remain, and it'll have a dose of that sexy mussed up look too – it's the perfect combo. Elnett's Precious Oil Hairspray £2.35 is enriched with Argan Oil too so your hair won't dry out overnight.