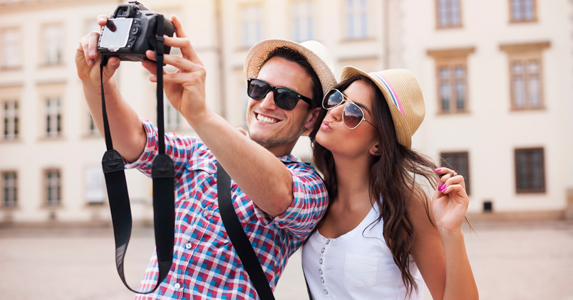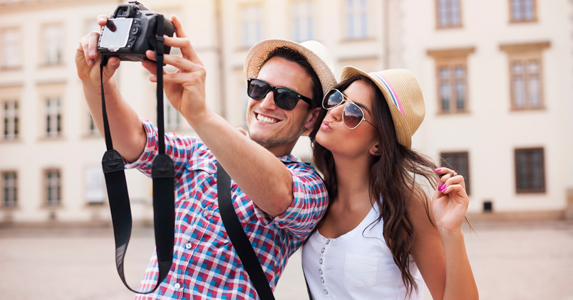 We all love having beautiful holiday photos to pour over long after the last margarita, but getting the right pose can sometimes be the difference between a photo we'd mount on our wall, or one we'd hide in the draw.

But if you thought you weren't photogenic, think again! These genius tricks will mean you will look your best on camera…

Put your money where your mouth is!

Rather than repeating the age-old (and very awkward) 'cheese!' before the camera flashes, try saying 'money' instead. The strong 'e' sound will give the illusion of a natural smile, as it makes the corners of your mouth go up and your eyes crinkle.

Fake a tummy tuck

To make your torso look more slender, twist your waist turning one shoulder towards the camera and another away from it. And remember to keep your posture straight – no slouching!

Blush is a must

Without any colour in your cheeks, your face can look flat and one-dimensional. So make sure you're rocking a rosy glow! Surprise photo-op? Pinch your cheeks – old-school but it works!

Stick your neck out

Banish double chins by making sure your remember to push your face forward ever so slightly. Yes, you might feel a little ridiculous, but your face will look thinner and longer.

Seek the sunset

Just before dusk, when the light becomes a soft, orange glow is the best time of day for outdoor photos. The sun casts less of a shadow downwards, so bags are eliminated and your features light up.

Get it right

Quickly glance towards the right before someone snaps your photo to eliminate red eye.

Get glossy

Matt lip colours, especially lighter or nude shades, can look flat on pictures. Try a vibrant lip colour with a hint of sheen and it will really brighten your features.

Go matte

Use a matte foundation or tinted moisturiser, as shine does not translate well in photos! Then to add some depth to your features, brush bronzer across your temples, the bridge of your nose and under your cheekbones. You want to make sure the light hits your face in all the right places!

Boost shine

Having glossy hair will make your overall look so much more polished. Shine spray is great for adding a last minute gloss boost.