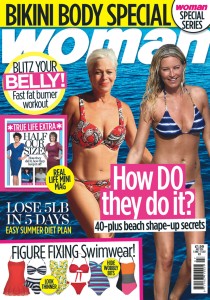 Summer holidays should be exciting but the thought can often leave us feeling dread – that's why we've created our Bikini Body Special. From weight loss to toning up, flattering fashion essentials to delicious recipes, there's something for everyone!

Josie Gibson shares her exclusive (and delicious!) diet & fitness plan with us, we've found the easiest ever ways to cut out sugar and look your best on the beach with the slimming swimwear that trims in all the right places, for every shape.

Plus, 30 minute Slimming World dinners, fat-burning foods, easy ways to burn 400 cals, the must-try supplements and become a smart diet shopper. We've also got the lowdown on how the stars look bikini-ready in their 30s, 40s, 50s and 60s. All this and lots more, in our Bikini Body Special – out NOW!

 

Download your issue today via your tablet or iPad. Click here to find out more.