Holiday on the horizon that want to get into shape for? Well you can! We are loving this new diet plan that promises you great results in just one month!  The 4×4 Diet has been devised by Celebrity trainer and former marine Erin Oprea and will help you lose weight, increase muscle definition – and, reduce bloating and puffiness! Here's what to do…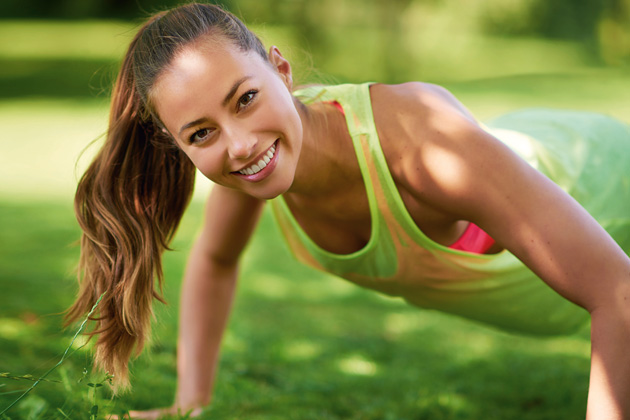 Focus on these 4 food habits and follow these simple rules:

According to Erin there are four food habits that can have a dramatic impact on your weight loss results – cutting out starches at night and cutting back on sugar, salt and alcohol.  'The 4 x 4 diet was built on a simple two-part philosophy that I've been practicing for over a decade – eat clean and get lean,' says Erin. 'If you stick with it, you'll start to feel and see changes in just a week.'
1: Cut out starches at night
Why?  Sugar, starch and fibre are all carbohydrates.  Sugar and starch serve as your body's main energy source, broken down into glucose and used as energy and the fibre regulates bowel movements and controls blood sugar.  The body can store extra glucose in the muscles and liver, but, any excess gets stored as fat.  That's why it's best to eat starches during the day when you're more active.  So, on the 4 x 4 you can only eat starches until 4 pm.
Starchy foods to avoid after 4pm – bread, beans, cakes, cereals, crackers, lentils, oatmeal, pasta, pie, chips, potatoes, pretzels, rice, sweet potatoes.
Starchy foods you can eat after 4pm – butternut squash, parsnips, pumpkin, water chestnuts, lima beans.
2: Cut back on sugar
Why?  Eating too much sugar disrupts blood sugar levels and may raise your risk of developing diabetes, cancer and heart disease.  It also leads to insulin resistance and increased belly fat – the most dangerous kind of fat.
How much sugar?  New guidelines by the Scientific Advisory Committee on Nutrition (SACN) advise that we should restrict sugar intake to just seven tsp, or cubes, a day – that's 30g. This includes free sugars (those added to food) such as sucrose, table sugars and sugars naturally present in honey, syrups and unsweetened fruit juices.  To give you an idea a can of Coca Cola contains 8 tsp (34g of sugar) and a Muller Light Yoghurt – approx 3 tsp (12.4g of sugar).
Avoid these – cakes, biscuits, cereal, dressings, fruit juices, ketchup, pasta sauces, sweets.
Sugar substitutes to try – Nature's Garden Stevia, £7.29 – hollandandbarrett.com or Palmyra Jaggery Powder, £7.99 for 250g – consciousfood.co.uk
3: Cut back on salt
Why?  Eating too much salt can lead to raised blood pressure and this can increase your risk of heart disease and stroke.
How much salt?  Adults should have no more than 2.4g sodium or 6g salt (around one tsp) a day.
Avoid foods that contain hidden salts – eg: olives, cheese, canned soups, baked beans, bacon, bagels, cheese, processed meats, bread, ready meals, crisps, sauces, ready meals etc. So always check labels.
Season food herbs and spices instead – eg: chilli, garlic, basil, oregano, dill, rosemary, paprika, turmeric etc.
4: Cut back on alcohol
Why?  Drinking too much alcohol can take a serious toll on your body leading to fatty or inflamed liver.  Alcohol can also damage the heart, brain and pancreas. It also weakens the immune system and may raise your risk of cancer.
On the 4 x 4 Diet you can only have two – three drinks per week maximum – ( eg: small 125ml glass of wine is one drink)
WHAT TO EAT
Breakfast ideas:


Pecan porridge – made with jumbo oats, unsweetened vanilla almond milk, teaspoon ground cinnamon and 1 handful pecans.
Greek yoghurt (small pot) with ½ tsp maple syrup, handful fresh strawberries, blueberries and, or raspberries.  Sprinkle with chopped almonds.
Vegetable Omelette – made with peas, greens beans, onion peppers, courgette and 2 eggs.
Pancakes made with almond flour served with blueberries and a dollop of Greek yoghurt.
Scrambled eggs with a turkey sausage.
Lunch ideas


Hummus Sandwich – 2 tbsp hummus, 2 slices wheat free bread, ½ avocado sliced, 2 thin tomato slices, sliced red onions.
Stuffed Quinoa Peppers – Cut a bell pepper in half and stuff with cooked quinoa and vegetables of your choice – eg: beans, tomatoes, sweetcorn etc. and 2 oz feta cheese.  Season with garlic, ginger, chillies to taste.
Root Vegetable tacos – Take two corn tortillas and fill with a mix of roasted vegetables – eg: carrot, parsnip, mushrooms, onion, courgette, squash etc.  seasoned with garlic, paprika ground cumin and a dash of olive oil.
Spicy Chicken Breast in a Wrap – Bake chicken breast marinated with honey, ginger, garlic and chillies.  Place in wrap with sliced onions and a couple tablespoons Greek yoghurt.
Lettuce Wrap Tacos – Use large lettuce leaves (eg: romaine, cos) as wraps and fill with sliced avocado, 2 tsp sour cream, diced tomatoes, dash of chilli and add strips of meat (4oz) of your choice – eg: chicken, beef, turkey etc.
Dinner ideas


Chicken Stir Fry – Use 1 chicken breast, cut into pieces, 1 red bell pepper, 1 onion, 1 broccoli crown (cut into florets), fry in vegetable oil, honey and corn starch.
Thai Salad – Julienne (or chop) 1 carrot, 1 red bell pepper, I red onion, 1 courgette, 1 yellow squash, broccoli or cabbage (raw) – all chopped, ½ avocado sliced.  Add dressing made with 2 tbsp low sodium soy sauce, 1 ½ tsp fish sauce, 2 tbsp rice vinegar, dash of chilli sauce, garlic clove (crushed), fresh ginger (chopped), 1 tsp sesame oil, 1 tbsp olive oil.
Tuna Steak on a Bed of Sauteed Kale – Marinade 6 oz tuna steak in 1 tbsp sesame oil, garlic clove and 1 tsp ground ginger (for 30 minutes).  Cook tuna over medium heat for 10-15mins. Serve on a bed of sauteed kale.
Courgette noodles with Pesto and salmon – Spiralise 2 medium courgettes.  Cook like spaghetti. And serve with home made pesto.  To make: I bunch basic leaves, handful pine nuts, grated parmesan, garlic clove, 2 tbsp extra virgin oil.  Serve with grilled salmon fillet.
Lemon Pepper Cod – Cod fillet seasoned with 1 tsp extra virgin olive oil, zest and juice of 1 lemon, ground black pepper (to taste).
Sides

    Mashed cauliflower with dash of olive oil·
    Honey roasted butternut squash
    Roasted beets
    Roasted Brussels sprouts with sesame oil and honey
    Vegetables of your choice seasoned with herbs and spices.
Snacks
    Sauteed almonds with 1 tsp maple syrup ·
    Handful blueberries
    Veggies and dip – eg: broccoli florets, mushrooms, bell peppers, sugar snap peas, cauliflower, cucumber with hummus or Greek yoghurt dip
    Brown rice cake with peanut butter, honey or fresh berries
    Apple with natural peanut butter
COMBINE WITH A 4 MINUTE WORKOUT – yes get fit in just 4 minutes a day!
The exercise on the 4×4 diet is based on a high intensity fitness regime where you:
    Work out hard for 20 seconds
    Rest for 10 seconds
    Repeat 8 times
You can do any high intensity exercise you want as long as it adds up to 4 minutes a day– eg: lunges, squats, burpees, push ups, cycling etc.
Research shows that short bursts of high intensity interval training (HIIT) can be just as beneficial as spending hours doing conventional exercise.  Studies have shown that HIIT can improve aerobic fitness, tone muscles and speed up metabolism.
Recipe and diet plans by Erin Oprea for Harmony, The Crown Publishing Group.
Finally, let us know what you think of the diet on our Facebook page – @womanmagazine. Because we love hearing what you have to say!
READ MORE…