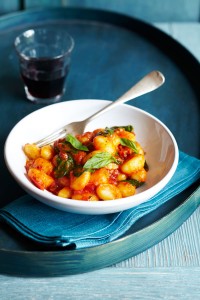 There's no need to reach for a ready meal next time you're in a rush – you really can make this no-fuss gnocchi in just 10 minutes. A packet of gnocchi (Italian potato dumplings) is great to have in your fridge. Cook them in boiling salted water just as you would pasta.


READY IN 10 MINUTES – SERVES 2

(Making dinner for one? Simply divide the ingredients below in half)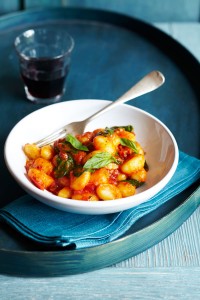 500g gnocchi

350g jar whole cherry tomato and basil sauce (Sacla's great)

100g baby spinach leaves

50g grated Parmesan

Handful of basil leaves

 

 

 

 

 

 

1 Bring a large pan of salted water to the boil. Add the gnocchi, when they float to the top of the water, cook for just 2 minutes, then drain.

2 Tip the tomato sauce into the hot pan and warm through. Add the spinach leaves, gnocchi and half the parmesan. Warm through for a couple of minutes.

3 Serve sprinkled with extra cheese and basil leaves.

Nutritional info: 552 cals, 17g fat,(5g saturated), 80g carbs

MONEY SAVER: Simmer together a can of tomatoes with a chopped onion, crushed garlic and a pinch of sugar instead of using the ready-made sauce.