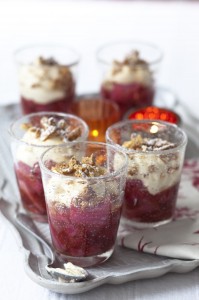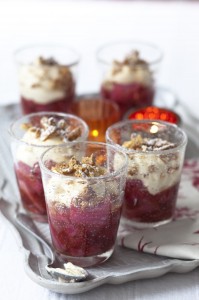 SERVES 6 PREP 15 mins
READY IN 30 mins
750g rhubarb, trimmed and cut into 1cm lengths
Finely grated zest and juice 1 orange
3tbsp golden caster sugar
375g mascarpone cheese
5tbsp lemon curd
6 amaretti biscuits
1 Heat the oven to 200C or Gas 6. Line a baking tray with a Teflon non-stick sheet or baking parchment. Spread the rhubarb over this and sprinkle over the orange zest and juice and sugar.
2 Roast for 10 mins until slightly softened. Divide between 6 glasses and cool for 15 mins.
3 Mix together the mascarpone cheese and lemon curd. Spoon on top of the rhubarb. Cover and chill for up to 2 days.
4 Crumble an amaretti biscuit over each one to serve.
Per serving: 350 cals, 28g fat, (18g saturated), 18g carbohydrate