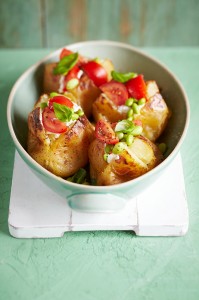 Fancy a fresh new veggie meal? These tomato, basil and cheesy garlic jacket potatoes are filling, tasty and not expensive either. Start the potatoes in the microwave to speed up the cooking time or for a super quick meal use frozen ready-cooked jacket potatoes and just add our delicious topping.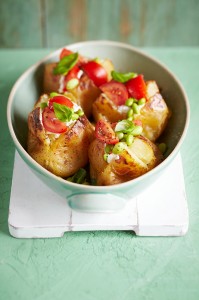 SERVES 4 – PREP 5 MINS- COOK 35 MINS

4 baking potatoes (about 150g each), scrubbed

150g frozen soya beans

150g pack garlic and herb soft cheese (such as Boursin)

8 cherry tomatoes, quartered

A few fresh basil leaves

1 Set the oven to 200C, gas 6. Prick the potatoes several times with a fork. Part-cook  in the microwave on full power for 10-15 mins until just starting to soften then transfer to the oven for 20 mins to finish cooking and crisp the skin.

2 While the potatoes are cooking, cook the soya beans in boiling salted water for 3 mins, drain.

3 When the potatoes are cooked cut a deep cross in each one and squeeze to open up. Spoon in the garlic and herb cheese and top with the soya beans, tomatoes and basil leaves.