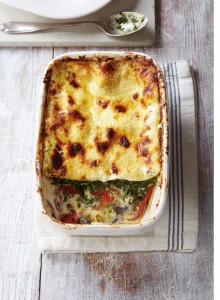 The most time consuming thing about lasagne is making the sauce – so my solution is to smother the lasagne with oh-so-creamy mascarpone cheese instead and layer it up the veg. Mmm…
PREP 15 MINS – COOK  40 MINS – SERVES 6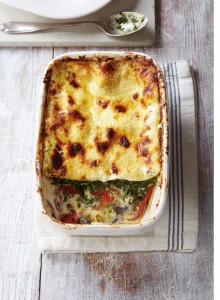 4tbsp olive oil
250g chesnut mushrooms, sliced
1 onion, chopped
2 garlic cloves, crushed
500g frozen spinach
500g mascarpone
1/4tsp ground nutmeg
200g fresh egg lasagne sheets
290g jar red peppers, drained
50g pecorino cheese, grated
1 Heat the oven to 200C, Gas 6.  Fry onions in 2tsp of the oil for 2 mins, add sliced mushrooms and cook for about 4 mins to brown them. Put into the base of a 1 litre ovenproof dish.
2  Cook  garlic and spinach in rest of the oil until defrosted. Strain and season generously.
3 Mix together the mascarpone andground nutmeg.
4 Arrange a layer of lasagne over the sliced mushrooms, followed by the drained red peppers and another layer of lasagne. Spread over the spinach and top with a final layer of lasagne.
5 Spread the mascarpone over the top and sprinkle with grated pecorino. Bake the lasagne for 30 mins.
Per Serving: 534 cals, 41g fat (25g saturated), 26g carbs
MONEYSAVER SAVE £1! Use budget dried pasta sheets instead of fresh
MAKE IT HEALTHIER! Switch the mascarpone cheese to  Quark – a virtually fat free soft cheese, ideal for cooking and reduce the olive oil to just 1tbsp.
Try another easy one-pan supper, crispy chicken thighs and roasted veg
Looking for more pasta recipes?