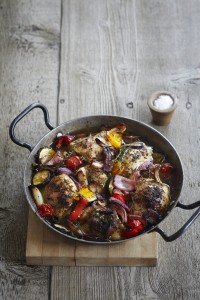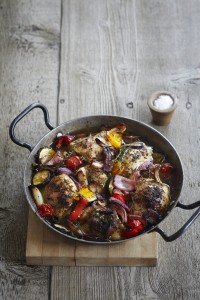 A delicious dinner that's ready in under 40 minutes!
SERVES 4
PREP 5 MINS
COOK 30 MINS
6 chicken thighs
2tsp chicken seasoning
400g ready-to-roast mediterranean vegetables (onions, courgettes, peppers, cherry tomatoes)
2 garlic clove, crushed
2 lemons
2tbsp olive oil
1 Heat the oven to 200°C, Gas 6. Put the chicken thighs into a tin and sprinkle with salt, ground black pepper and chicken seasoning.
2Add the ready-to-roast med vegetables and  garlic. Squeeze over 2 juiced lemons and drizzle on the olive oil.
3 Roast for 30 mins until the chicken is golden.
Per serving: 177cals 6g fat (1.5g saturated), 5g carbs