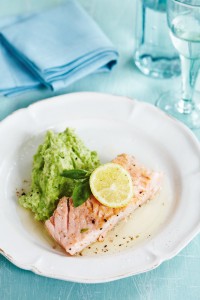 Make a fast and a very different kind of mash, using canned butterbeans and frozen peas, to serve with salmon.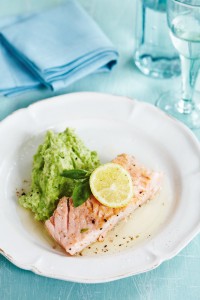 SERVES 4 – PREP 5 MINS – COOK 10 MINS

(Making dinner for one? Simply divide the ingredients below by four)

4 salmon fillets

200g frozen peas

400g can butter beans, drained

200g carton half fat crème fraiche

 

 

 

 

 

 

1 Grill or pan-fry the seasoned salmon for 10 mins. Meanwhile, microwave peas in a bowl with 2 tbsp water on High for 3 mins.

2 Whizz the butter beans, drained peas and 3/4 of the crème fraiche in a processor to make a smooth mash.

3 Put mash in a bowl and microwave on High for 3 mins to warm. Serve with the salmon.

Per serving: 441 cals, 25g fat (8g saturated fat) 15g carbs

Felicity's tip: Serve the remaining crème fraiche and a slice of lemon with the salmon. You could add a few basil leaves to the mash.

Click here for more recipes

Try our easy salmon fishcakes

Looking for another fish recipe? Try our Pesto fish pie.