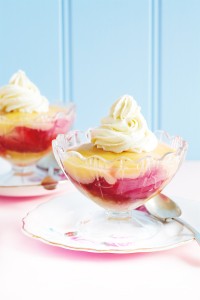 The great thing about custard powder in this Trifle is that when you make it up it gives a perfect firm set unlike shop-bought cartons. We've made it more indulgent with a hint of vanilla extract and single cream.
SERVES 4 – PREP 20 MINS – COOK 15 MINS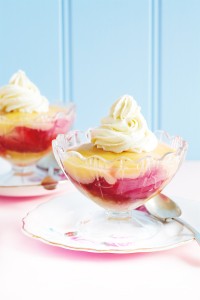 400g rhubarb, chopped and rinsed
100g golden caster sugar
3tbsp custard powder
2tbsp caster sugar
500ml single cream
2tsp vanilla extract
300ml double cream
315g madeira cake, sliced into 6
3tbsp strawberry jam
100ml sweet white vermouth
8 strawberries, sliced
300ml double cream, whipped
1 Heat the oven to 200C, Gas 6. Spread the rhubarb out onto a non-stick baking tray, sprinkle over the sugar and roast for 15mins.
2 Put the custard powder into a jug with the sugar and 2tbsp cream, stir to a smooth paste. Warm the cream and vanilla in a pan, then pour onto the custard paste. Return to the pan, stir and heat until thickened and smooth.
3 Sandwich the cake slices together with jam and arrange the cake in the base of 4 glass dishes. Pour over the sweet vermouth.
4 Divide the strawberries between  the glass dishes, top with the rhubarb. Pour on the custard. Chill to set.
5 To serve pipe or spoon a swirl of cream on top of each.
Per serving: 679 cals, 30g fat (18g saturated) 87g carbs