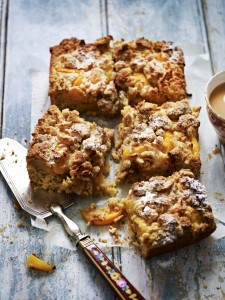 Here's a clever recipe – serve this peach crumble cake warm for pudding with custard or cream, or cold cut into squares as a cake. This fab easy-mix peach crumble cake uses canned fruit for extra juiciness and it's cheap too!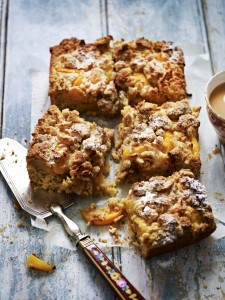 SERVES 12 PREP 20 MINS COOK 20 MINS
350g self-raising flour
2tsp mixed spice
175g butter, softened
150g golden caster sugar
8tbsp buttermilk
1tsp vanilla extract
415g can peaches in syrup, drained
Icing sugar, to dust
1 Heat the oven to 190C, Gas 5. Line an 18 x 28cm baking tin with baking paper. Put the flour and spice in a food processor with the butter and pulse to form crumbs.
2 Add the sugar and 3tbsp of the buttermilk and pulse to make a very coarse, clumpy crumble. Tip out into a bowl, then put two-thirds of the mixture back into the processor and set the rest aside.
3 Add the remaining buttermilk and the vanilla extract to the mixture in the food processor and blend to a smooth consistency. Spoon into the prepared tin and smooth the top.
4 Arrange the drained peaches evenly over the cake mixture, then spoon on the reserved clumpy crumble, leaving some of the fruit uncovered.
5 Bake for 20 mins or until a skewer inserted into the centre of the cake comes out clean. Dust with icing sugar and cut into chunky slices. Serve warm with custard or cream, or cold as a cake.
Per serving: 280 cals, 12g fat (8g saturated)