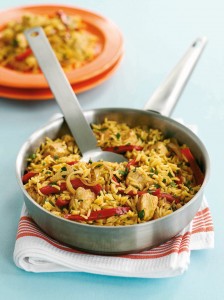 Spice up your chicken with some curry powder and simmer it together with rice for a fab one pot meal.

SERVES 4 – PREP 10 MINS – COOK 20 MINS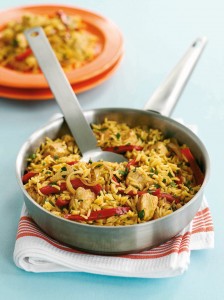 2tbsp sunflower oil

1 large onion, chopped

4 skinless, boneless chicken breasts, cut into chunks

1-2tbsp medium curry powder

1 red pepper, deseeded and sliced

200g basmati rice

450ml chicken stock

2tbsp parsley chopped, if you like

 

 

 

1 Heat the oil in a large pan, add the onion and fry gently for a few mins to soften. Meanwhile, season the chicken generously with salt and ground black pepper. Sprinkle over the curry powder.

2 Add the seasoned chicken to the pan and fry for 10 mins, to brown, turning as needed.

3 Stir in the peppers, rice and chicken stock and cover. Bring to the boil, then simmer for 10 mins until the rice is tender and the liquid absorbed. Stir in some parsley to serve, if you like.

Nutritional info: 447 cals,  8g fat (1g saturated) 43g carbs

Cost- cutter:  Save £3.50 and use boneless, skinless chicken thighs instead of breasts and long grain rice instead of basmati rice.

Click here for more recipes

Try another one-pot recipe, our lamb curry

Looking for another 30 min dinner? Why not try our Pesto fish pie?