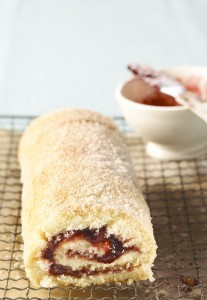 Want your cake and eat it, well you can! Try making this delicious swiss roll – not only does it taste good, it's low in calories too – a perfect excuse to have two slices with a cuppa!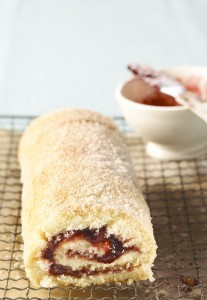 SERVES 8
 PREP 30 mins COOK 10 mins
90g golden caster sugar, plus an extra 2tbsp for dusting
3 large eggs
90g plain flour
1tsp vanilla extract
5tbsp low-sugar fruit spread or good quality jam
1 Heat the oven to 200C/Gas 6. Grease a 20 x 30cm swiss roll tin and line with baking parchment. Put the sugar and eggs into a large bowl and whisk with an electric hand-whisk for 6 mins, until pale and thick enough for the mixture to leave a trail when the whisk is lifted up.
2 Sift half the flour into the mixture and fold in thoroughly. Repeat with the remaining flour and the vanilla extract.
3 Pour the mixture into the prepared tin and use a spatula to smooth it evenly into the corners. Bake in the centre of the oven for 10 mins, until pale golden, risen and just firm to the touch.
4 Meanwhile, put the low-sugar fruit spread in a bowl and stir well to slacken it.
5 Lay a piece of baking parchment that's larger than the sponge on the work surface, and dust this with sugar.
6 Turn the sponge out on to the sugar-dusted paper and peel away the lining paper. Trim off the edges of the sponge.
7 Spread the fruit spread over and make an incision about 1cm in from the short edge near you, being careful not to cut through the cake — this makes it easier to roll up.
8 Lift the paper to start rolling the sponge up tightly. Sit the cake seam-side down until cold.
By Felicity Barnum-Bobb