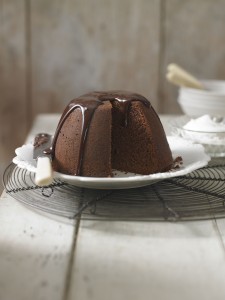 This is a fantastic easy pud! There's nothing more comforting than a steamed chocolate pudding and when it uses Fairtrade ingredients it's even better. Read on to discover how easy it is to make this Levi Roots chocolate steamie pudding…

Serves 6


175g self-raising flour
3 tbsp cocoa powder
100g  butter, softened, plus extra for greasing
100g light muscovado sugar
2 large free-range eggs
2–3 tbsp milk
150g white chocolate chip
s
For the chocolate sauce:
200g dark chocolate
100ml milk
50ml double cream
40g caster sugar
25g unsalted butter
1.
Sift the flour and cocoa powder  into a bowl and stir to combine. Beat the butter and sugar together, using an electric mixer or by hand, until pale and fluffy. Add the eggs to the creamed butter and sugar mixture one at a time, alternating with the dry ingredients, and beat with the mixer on a low setting or stir gently by hand after each addition. Stir in enough milk to achieve a dropping consistency then fold in the chocolate chips.
2.
Spoon the mixture into a greased and base lined 1 litre (1¾ pint) pudding basin and cover with foil. Place an upturned saucer into a large saucepan with a lid and pour in roughly 6cm water. Place the pudding basin into the saucepan on top of the saucer and place over a medium heat. Bring the water to the boil, reduce the heat slightly, place the lid on the saucepan and steam for 1½ hours, checking from time to time to ensure the water doesn't boil dry.
3
To make the chocolate sauce; melt the chocolate in a bowl over a pan of simmering water. Meanwhile, heat the milk, cream and sugar in a pan, stirring until the sugar has dissolved.  Gradually add the milk mixture to the warm chocolate. Keep beating until it comes together. Add the butter and stir in.
4
. To serve,  upturn the pud and drizzle over a little of the chocolate sauce and serve with the remaining chocolate sauce.
This 
Fairtrade Fortnight 
(25 February – 10 March) the Fairtrade Foundation is asking people  to 
Go Further 
for Fairtrade in 2013
to look after the food we love and the people who grow it. Without our support now, farmers in developing countries face a difficult and uncertain future. To find out more go to
 fairtrade.org.uk/gofurther