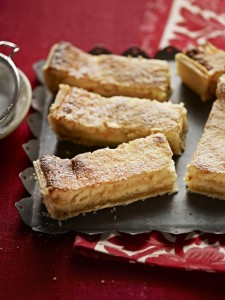 Mmmmm these luscious lemon cheesecake slices make a delicious afternoon treat or pud with custard or cream. It's a brilliantly easy recipe you'll be making time and time again.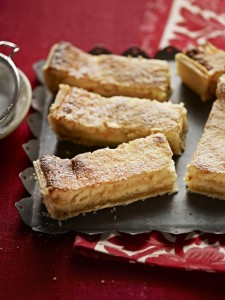 MAKES 12 – PREP 20 MINS – COOK 1 HOUR

200g ready-rolled shortcrust pastry

250g marzipan

90g full-fat soft cheese

2 eggs, separated

Finely grated zest and juice of 1 lemon

60g caster sugar

1tbsp plain flour

1tbsp milk

Icing sugar, to dust

 

1 Set the oven to 170C, gas 3. Use the pastry to line the base and sides of a 19cm square shallow tin. Trim off any excess pastry. Divide the marzipan in half and roll out each piece to a 18cm square.

2 Place one of the marzipan squares on top of the pastry. Place the soft cheese in a bowl and beat to soften. Beat in the egg yolks, lemon zest and juice, sugar, flour and milk.

3 In a separate bowl, whisk the egg whites until stiff then lightly fold into the cheese mixture. Spoon half the mixture over the marzipan, place the remaining marzipan square on the top then spoon over the remaining cheese mixture to cover.

4 Bake for 1 hour until the top is golden and just firm to the touch. Dust with icing sugar and serve warm or cold.