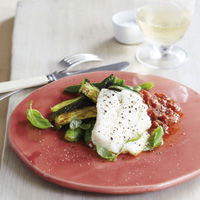 Serves 1
Prep 5 mins
Cook 15 mins
200 Calories
125g cod fillet
1tsp olive oil
50g tomato-and-chilli pasta sauce
few basil leaves
1 Heat the grill. Arrange the courgettes and fish in a lined grill pan, season generously and drizzle with olive oil.
2 Grill for 5 mins, then turn the courgettes and grill for a further 10 mins, until the veggies and fish are tender.
3 Microwave the sauce for 1 min.
4 Serve the courgettes and fish with the sauce, then scatter with basil leaves.
TIP
A variety of fish would taste delicious in this dish, so look to see what's on offer: for example, haddock, pollack and plaice would all work well instead of cod.