New from The Hairy Dieters Fast Food recipe book, this delicious dish is great for a low-cal dinner and super simple to prepare!

Serves: 4
Calories per serving: 406
Ingredients:
4 lamb steaks, about 150g each
2 tsp olive oil
1 tbsp red wine vinegar
2 tsp dried mint
½ tsp sugar, honey or pomegranate
molasses
1 tsp cumin (optional)
Broad beans:
500g frozen broad beans, defrosted
2 tsp olive oil
1 onion, finely chopped
2 garlic cloves, finely chopped
grated zest of ½ lemon
1 tsp cumin
pinch of cinnamon
1 tsp dried oregano
200ml stock or water
200g canned tomatoes
juice of ½ lemon
1 tsp pomegranate molasses (optional)
small bunch of parsley, finely chopped
flaked sea salt
freshly ground black pepper
Method:
First marinate the lamb. Trim the lamb of any fat. Whisk the olive oil and red wine vinegar in a bowl with the mint, sugar, honey or pomegranate molasses and the cumin, if using. Rub the mixture into the lamb steaks and leave them for at least 10 minutes, preferably a little longer. (If you have the chance to do this in advance, so much the better.)
Put the broad beans in a heatproof bowl, pour over some boiling water and leave for a minute or so while the beans defrost. Drain and set aside.
While the lamb is marinating, heat the olive oil in a saucepan and add the onion. Cook gently over a medium heat for a few minutes, then add the garlic, lemon zest, spices and oregano. Season with salt and pepper, then add the broad beans and the stock or water.
Bring to the boil, then turn down the heat, cover the pan with a lid and cook for 5 minutes.
At this point, put a griddle pan on the hob to heat up – it will need at least 5 minutes.
Add the tomatoes, lemon juice and pomegranate molasses to the broad beans and leave to simmer gently while you cook the lamb.
Shake off any excess marinade from the lamb steaks, then place them on the griddle. Cook for 2–3 minutes on each side until well charred on the outside but still pink in the middle. Remove from the griddle and allow them to rest for a few minutes.
Serve the lamb steaks with the broad beans, garnished with finely chopped parsley.
THE HAIRY DIETERS FAST FOOD by Si King and Dave Myers is published by Orion in May 2016; Trade paperback: £14.99, eBook: £7.99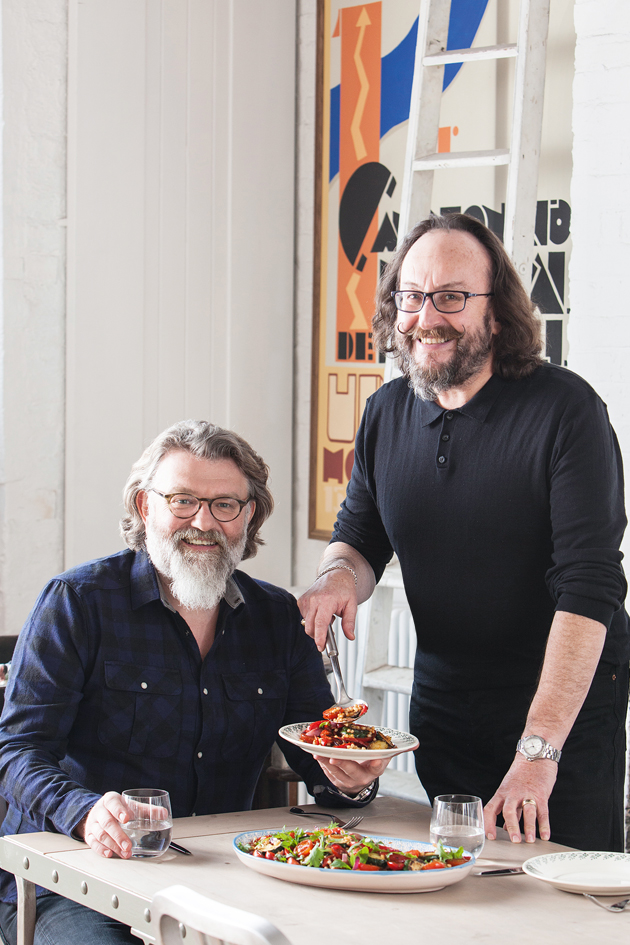 Those Hairy Dieters know a thing or two about filling and flavoursome meals with a slimming twist...