A culinary triumph for curry-loving dieters – what's not to like? We've re-worked this classic to encourage your ever-decreasing waistline, so get shopping and chopping!
SERVES 4 – PREP 15 MINS – COOK 20 MINS

6 long green chillies
4 boneless, skinless chicken breasts
2 tbsp sunflower oil
2 garlic cloves, peeled and
finely chopped
3 ripe tomatoes, chopped
1 tbsp ground cumin
1 tbsp garam masala
1 tsp ground turmeric
1 tbsp caster sugar
1 tsp flaked sea salt
200ml cold water
2 tbsp low-fat natural yoghurt
1 medium onion, cut into
12 wedges
1 green pepper, deseeded and cut
into rough 3cm chunks
2 tomatoes, quartered
2 tsp cornflour
1 tbsp water
Method
1 Finely chop 4 of the chillies – you can also deseed a couple or all of them first if you don't like very spicy food. Split the other 2 chillies from stalk to tip on 1 side without opening or removing the seeds.
2 Cut each chicken breast into 7 or 8 bite-sized chunks.
3 Heat a tablespoon of the oil in a large, fairly deep, non-stick frying pan (or wok) over a high heat. Add the garlic, chopped chillies, chopped tomatoes, cumin, garam masala, turmeric, sugar and salt, then stir-fry for 3–4 minutes until the vegetables soften. Don't let the garlic or spices burn or they will add a bitter flavour to the sauce.
4 Next, add the chicken pieces and whole chillies and cook for 3 minutes, while turning the chicken regularly.
5 Pour over the 200ml of water, then stir in the yoghurt and reduce the heat only slightly – you want the sauce to simmer. Cook for about 8 minutes, stirring occasionally until the chicken is tender and cooked through and the sauce has reduced by about a third. (The yoghurt may separate to begin with but will disappear into the sauce.)
6 While the chicken is cooking, heat the remaining tablespoon of oil in a clean pan and stir-fry the onion and pepper over a high heat for 3–4 minutes until lightly browned. Add the quartered tomatoes and fry for 2–3 minutes more, stirring until the vegetables are just tender.
7 Mix the cornflour with the tablespoon of water to form a smooth paste. When the chicken is cooked, stir in the cornflour mixture and simmer for a few seconds until the sauce thickens, stirring constantly.
8 Finally, remove from the heat, add the hot stir-fried vegetables and toss together lightly. Serve immediately. And just in case you were wondering – don't eat the whole chillies!
279 calories per portion
Extracted from THE HAIRY DIETERS by Si King and Dave Myers published by Weidenfeld & Nicolson priced £14.99. Copyright (c) Byte Brook Limited and Sharp Letter Limited, 2012. Photography by Andrew Hayes-Watkins.
Want more recipes from the Hairy Dieters? Then look no further…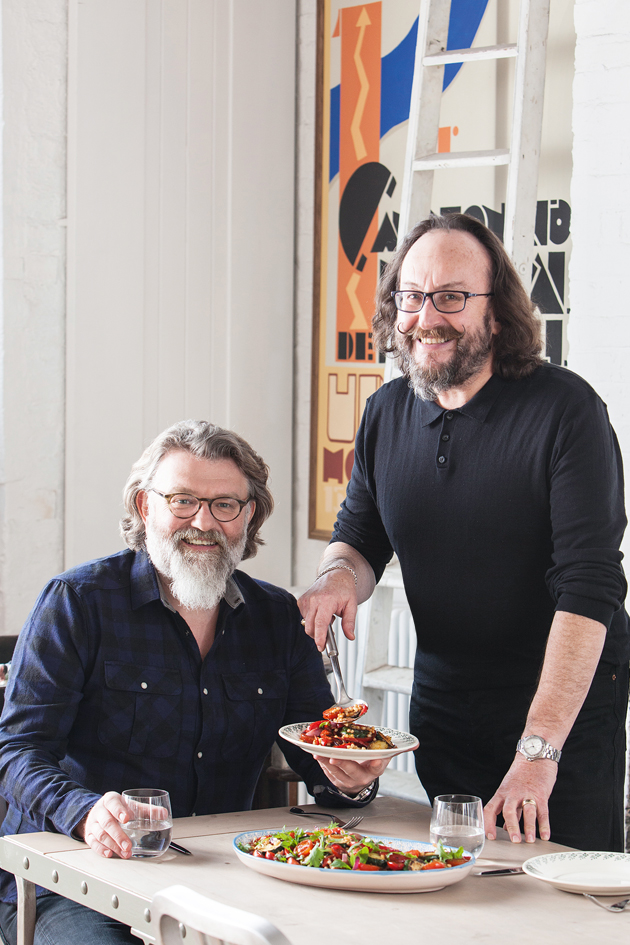 Those Hairy Dieters know a thing or two about filling and flavoursome meals with a slimming twist...

Chocolate doesn't always mean guilt. This delicious dessert is under 150 calories per portion.